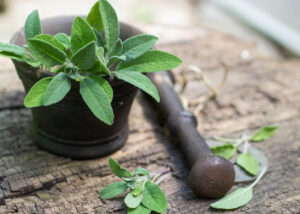 Welcome to Part Two of our guide to your own personal kitchen herb garden! Here are four more herbs that are easy to grow, and easy to use in your own cooking. Check out Part One for more herbs, along with some basic tips on growing and harvesting herbs.
Mint
Mint is another hardy herb, to the point that it's even a weed in some areas. In fact, it might creep farther than you want it to and choke out other plants, so either give it a good border, or trim it back regularly. Mint germinates best without a soil covering, so just drop it on the soil and let it grow. Mint likes a mix of sun and shade, and needs nice, moist soil.
Use mint to infuse lemonade during the summer, or add it to your favorite desserts, like ice cream or fresh berries. Mint also makes a great tea to counteract colds, or help settle your stomach.
Chives
Chives are related to onions and garlic, and just like those plants, they can help deter pests and bugs from your garden, so using them to border your vegetable garden or flower bed is a great idea. Chives also like a nice balance of sun and shade, and need rich, well-drained soil.
Snip off a blade with scissors and chop it off to top your favorite potato soup. You can also add them to some plain greek yogurt to make a great sandwich spread or veggie dip.
Cilantro
This is another kitchen garden essential because cilantro is all about the freshness – it's no good dried! Cilantro is a fast grower, but it doesn't deal well with being transplanted. So grab some seeds and plant them wherever you want them. Make sure to give them plenty of room to grow and prune them back as necessary. Guard them against fungal growth and bugs that love to munch the tender new growth.
Cilantro is great as a topping for tacos and quesadillas, or you can use it to make your own fresh salsa. The cilantro plant also produces the seed we know as coriander. So as your plant blossoms and germinates, collect the seeds to make your own fresh spice!
Sage
Sage is probably the very reason we have the word "savory". There's nothing like it to add depth and nuance to a dish; just a little bit can make a huge difference. Sage is a great tool for making a delicious dressing or marinade. Or, get really adventurous and incorporate it into some fresh-baked rolls.
Sage likes well-drained, almost sandy soil with a nice mix of organic matter. It's a woody plant, much like rosemary, that holds up well to chills.