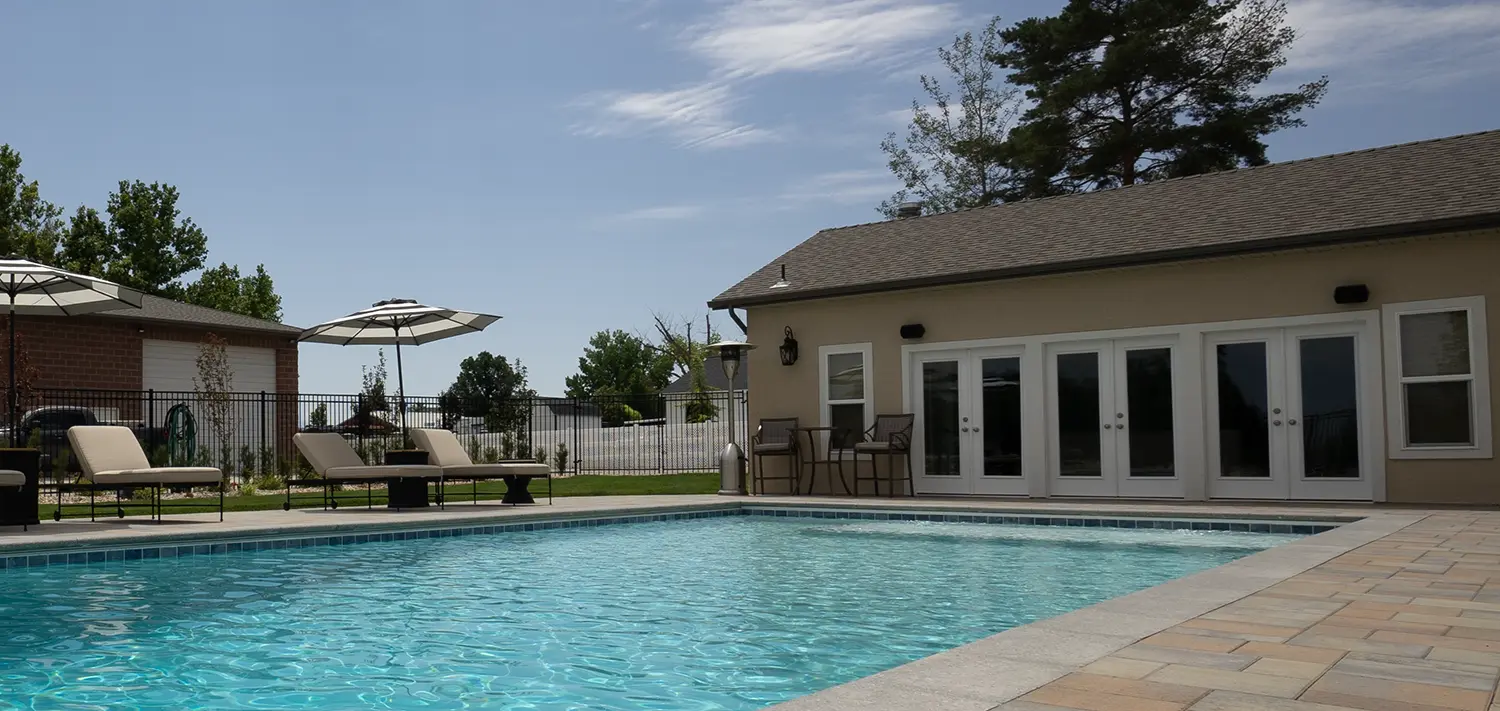 Keep your pool and leisure area looking pristine by storing and hiding pumps, hoses, and supplies in a pool house. Instead of being confronted with an unsightly mess every time you step outside, let Cottonwood Landscapes design and install a pool house that complements your residence and landscaping.
Add A Pool House To Your Backyard Oasis
If you want to add a pool and pool house to your home, Cottonwood Landscapes is ready to help. We have decades of experience designing and installing custom, quality
swimming pools
to Utah homes. 
Other Value We Can Add To Your Property
Complement your pool area with the right elements, including:
Decking
Fencing
Vegetation
Patio
Privacy Screens
Shade features
Water features
With our help, you'll never feel the need to leave home for a vacation; your backyard will be your go-to destination for high-end lounging on summer evenings and weekends with loved ones.
Typically, a pool house is a permanent structure that serves as storage for pool toys, chemicals, or even lounge furniture. Many homeowners like to include changing rooms in their pool house, and even a bathroom for swimmers to shower off before coming into the house. What makes a pool house different from a cabana or outdoor patio area is it's a permanent structure on your property. Instead of being enclosed with canvas or curtains like a patio or pergola area, a pool house has solid walls and a roof to fully set it apart as its own structure.
Bathroom access
Changing area for swimmers
Linen storage
Pool chemical storage
Pool Equipment storage
Pool furniture storage
Toy storage
With our help, you'll never feel the need to leave home for a vacation; your backyard will be your go-to destination for high-end lounging on summer evenings and weekends with loved ones.
Convenient bathroom access
Designated storage for all pool-related equipment
Elevates the pool experience for yourself and your guests
Increased property value
Keeps swimmers from tracking pool water into the main house
Tianna Jorgensen
2022-12-01
The people working in this company are honest hard-working individuals they get the job done and it looks amazing afterwards we are always sure to clean up as we go honesty and integrity is super important and this company has it
Overall I would say I am pleased with the design process and the installation. I had them regrade the slope and replace almost everything in my back yard. They replaced some clay with soil, regraded everything to slope away from the house, added a paver walkway, installed sod, and several other items. The workers showed up on time and worked very hard to get job done right and in a timely manner. The landscaping is beautiful, the paver walkway looks amazing, and most of the project looks great. You can tell that they know what they are doing and care about their work. My only frustrations were how they accidentally broke a rock feature and also how they missed some quality checks. Missing paver sand, pop up drains being buried too deep, and other minor items would all be quick and easy fixes if they had inspected the work or else responded to my requests before the ground froze. The good news is that they agreed to look at the missed items, and they agreed to fix them later… but I will have to wait 3-4 months for the ground to thaw and then hope that they are still willing to resolve everything then. They definitely got the most important things completed correctly in this project, and it really does look great. But it would have been a better experience if the final touches had been completed correctly and in a timely manner.
Not easy to locate, lacking any signage, but I was finally able to find the right Building.
Cottonwood did a great job with our paver and firepit installation. Very detail oriented and painstaking in their work. We are very pleased with the patio lighting scheme they designed. We have received many positive comments from friends and family and highly recommend Cottonwood Landscapes.
Ezequiel Sanchez
2021-09-22
Exelentes trabajos. .Buenos materiales y sus trabajadores muy atentos a las exigencias de sus clientes, muy limpios y ordenados, Trabajos garantizados.. los recomiendo ampliamente.
I hired Cottonwood Landscaping for 3 projects over 2 summers. A phenomenal job on the paver patio, the focal point of the yard. They were able to provide me with a landscaping vision that I could understand. I had bids from other companies who wanted to cut corners and use low quality materials. The plants and trees that were planted grew well. Their 6 inch steel edging is great. Drip watering in all planter beds.
Marcella Holman
2021-04-22
These guys are AMAZING!!!! They really value the community they are in. Thanks for allowing the public to receive your excess products at no cost.
Can A Pool House Be A Guest House?
While not its main purpose, a pool house can double as a guest house if you want or need it to. However, the pool house design should ensure that guests are not exposed to cleaning chemicals, and that pool equipment is safely stored out of the way so it's not a tripping hazard. You want the guest house to be a place your loved ones return to time and again, and a pool house may not be the best fit.
Can A Pool House Store Yard Tools?
If you need a place to store a lawn mower, pruning tools, and other supplies for yard work, we suggest having a separate shed or outbuilding for that. To avoid cross-contaminating any fertilizer or pool chemicals and to keep pool toys clean, separate storage for yard and pool equipment is best. Cottonwood Landscapes does specialize in
outdoor buildings
, so get in touch if we can help you with additional storage structures at your home.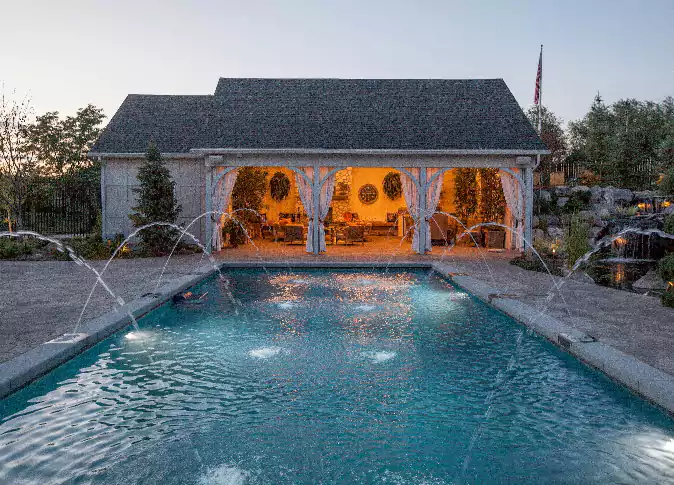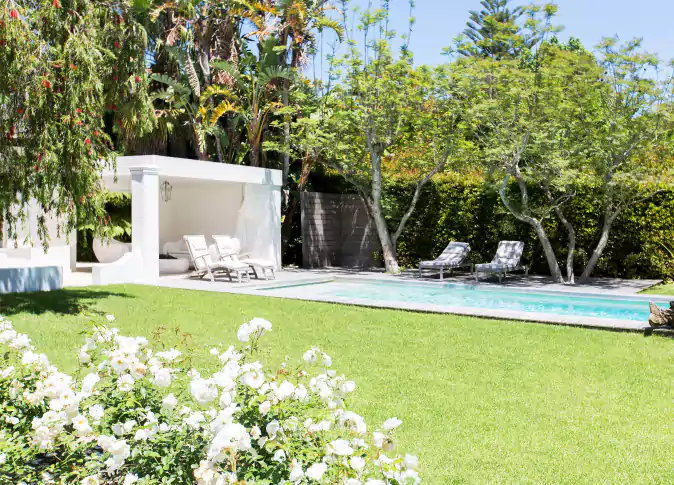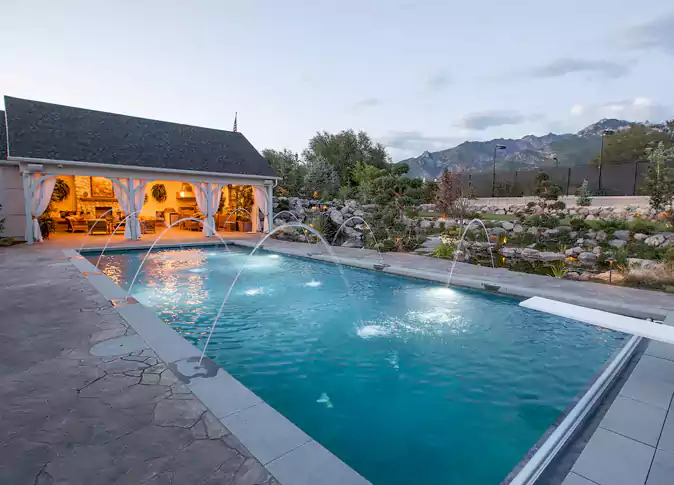 There's no question that adding a swimming pool to your home adds value to your life and your equity. Experts estimate that a pool and pool house adds anywhere between 5-8% to your property value.
Don't wait any longer to start the project of your dreams.