Cottonwood Landscapes Can Help You Build Your Custom Backyard Structure
As a Utah homeowner, you need something that will protect all of the equipment in your outdoor area, whether it be furniture, tools, a grill, or more. Cottonwood Landscapes understands your needs and we can help you find the right protection for your backyard without compromising on style.
One of the best ways to protect all of the things that make your backyard great is by calling on a professional landscape architect to provide you with solid roofs, whether it's a new shed or a patio cover.
Add A Building to Your Backyard Oasis
Types of Outdoor Structures We Offer
Not sure what you need to spruce up your outdoor space? In addition to installing patio covers in Utah, we also provide the following solutions:
Create a centerpiece in your yard and give plants a place to flourish. Arbors and gazebos can also be used to provide shade.
Wood and composite decking can increase the usable living space of your home, whether it's a platform, two-story, multi-level, or raised-level deck.
Create a gathering space on your property as well as visual interest with a pavilion.
These shade structures are ideal when you don't want to hinder the view. They can also assist climbing plants like grapes or clematis.
Tuck all the pool equipment and pool toys away with a designated structure on your property.
For outdoor stairs, pathways, or a deck, we can provide a custom railing that is stylish and functional.
Don't let unsightly equipment or seasonal supplies mar the aesthetics of your yard. Store everything in a shed that complements your property and home.
Extra space for parking doesn't have to be unsightly; we can design and install a carport that doesn't look like an afterthought.
If you're not sure what type of patio cover, shed, or outdoor building you want, browse our gallery to get inspired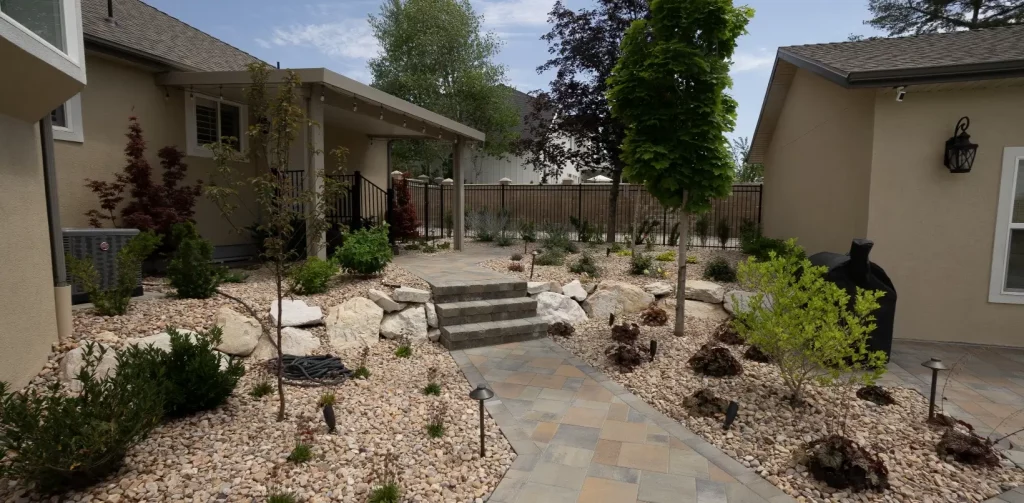 Patio Covers For All Seasons
Our summers can get hot in Utah, and there is no better place to be than in the shade. Instead of being at the mercy of the shade provided by trees, patios are the perfect place to enjoy the beautiful summer weather with your friends and loved ones, grilling up hamburgers, or sipping a cold glass of lemonade. On the flip side, during the winter, you have to worry about protecting your patio furniture and outdoor appliances from the snow and ice. Investing in a gorgeous patio cover from Cottonwood Landscapes can keep your outdoor living spaces, including decks and outdoor kitchens, protected no matter the season or weather. A patio cover can be a freestanding structure or an extension of your home; working with a patio cover designer from Cottonwood will help you find the right solution for your space.
Other Value We Can Add To Your Property
Cottonwood Landscapes has one of the largest inventories of patio covers available in Utah. We offer a wide selection of different water-resistant materials, styles, and sizes so you can find the best option that fits your budget and your home.

There are plenty of reasons to build a patio cover, including:
Need more space to welcome guests into your home for casual dinners or big parties? A covered patio can be a great space to install a barbecue and seating area to have friends and family over. They can also provide shelter for a hot tub so it can be used year-round.
If you're looking for a place to call your own, free from the noise and clutter of your house, a covered patio can provide you with a place to kick your feet up and relax with a good book. With one of our water features installed nearby, you can drown out the responsibilities/noise of your household for a few minutes of relaxation outside.
The Perfect Place, Rain or Shine
No need to worry about unpredictable Utah weather when you want to spend time outdoors. With a covered patio, the show can go on! You will be able to enjoy the outdoors whenever you want.
Not sure how to add value to your home? A beautiful patio cover is an amazing investment because it can not only make your home more functional, but more valuable if you ever choose to sell. People love an outdoor living space that makes a home feel more spacious and that can be used year-round.
Your patio furniture is also an investment and you want it to last. Harsh winters, rain, and UV rays can wear them out and damage them over time. A patio cover provides much-needed protection from the elements for them and helps them last longer.
Increase Energy Efficiency
Does the summer sun blast your home every afternoon and heat up west-facing rooms? Strategically placed patio covers can help your home be more energy efficient by shielding west-facing windows from harsh sunlight, keeping indoor temperatures down.

Sheds And Other Outdoor Buildings
Are you lacking in storage space? Hiring Cottonwood Landscapes to build a shed or other kind of backyard building can help provide you with more options for getting organized. A custom, outdoor landscaping structure should work hard for you while also beautifying your space, which is something we specialize in.
Sheds are the perfect place to store any of your outdoor supplies and tools that you need for gardening and landscaping, all while keeping them out of sight. If you dabble in any trade like welding or woodworking, a shed or other outdoor building can provide you with the workshop you need, freeing up your garage for vehicles. Need extra storage for holiday decor or seasonal gear? You should definitely consider getting a new shed or outdoor building to declutter your home.
Cottonwood Landscapes LLC can build you the shed or outdoor building of your dreams. Instead of struggling on your own with so-called "easy to assemble" tents or sheds from big box stores, we can help you out, no matter the size or material you want. We want to work with you to customize your landscaping structure so it can fit your needs and look exactly how you want it.
Frequently Asked Questions
let cottonwood landscapes build the backdoor building or patio cover of your dreams!
Cottonwood Landscapes is a locally owned company based out of West Jordan, Utah. We have over two decades of experience in the landscaping business and we love making our clients' dreams come true. We are proud of everything that we have accomplished and put a lot of care and expertise into our work.
5718 Dannon Way, Suite A West Jordan, UT 84081
Looking for landscaping solutions in Utah? Cottonwood Landscapes services homes across the Wasatch Front. If you reside in Salt Lake County or surrounding areas, give us a call to see how we can best serve you.
Tianna Jorgensen
2022-12-01
The people working in this company are honest hard-working individuals they get the job done and it looks amazing afterwards we are always sure to clean up as we go honesty and integrity is super important and this company has it
Overall I would say I am pleased with the design process and the installation. I had them regrade the slope and replace almost everything in my back yard. They replaced some clay with soil, regraded everything to slope away from the house, added a paver walkway, installed sod, and several other items. The workers showed up on time and worked very hard to get job done right and in a timely manner. The landscaping is beautiful, the paver walkway looks amazing, and most of the project looks great. You can tell that they know what they are doing and care about their work. My only frustrations were how they accidentally broke a rock feature and also how they missed some quality checks. Missing paver sand, pop up drains being buried too deep, and other minor items would all be quick and easy fixes if they had inspected the work or else responded to my requests before the ground froze. The good news is that they agreed to look at the missed items, and they agreed to fix them later… but I will have to wait 3-4 months for the ground to thaw and then hope that they are still willing to resolve everything then. They definitely got the most important things completed correctly in this project, and it really does look great. But it would have been a better experience if the final touches had been completed correctly and in a timely manner.
Not easy to locate, lacking any signage, but I was finally able to find the right Building.
Cottonwood did a great job with our paver and firepit installation. Very detail oriented and painstaking in their work. We are very pleased with the patio lighting scheme they designed. We have received many positive comments from friends and family and highly recommend Cottonwood Landscapes.
Ezequiel Sanchez
2021-09-22
Exelentes trabajos. .Buenos materiales y sus trabajadores muy atentos a las exigencias de sus clientes, muy limpios y ordenados, Trabajos garantizados.. los recomiendo ampliamente.
I hired Cottonwood Landscaping for 3 projects over 2 summers. A phenomenal job on the paver patio, the focal point of the yard. They were able to provide me with a landscaping vision that I could understand. I had bids from other companies who wanted to cut corners and use low quality materials. The plants and trees that were planted grew well. Their 6 inch steel edging is great. Drip watering in all planter beds.
Marcella Holman
2021-04-22
These guys are AMAZING!!!! They really value the community they are in. Thanks for allowing the public to receive your excess products at no cost.
There's no question that adding a patio covers to your home adds value to your life and your equity. Experts estimate that a pation covers adds anywhere between 5-8% to your property value.
Don't wait any longer to start the Building project of your dreams.