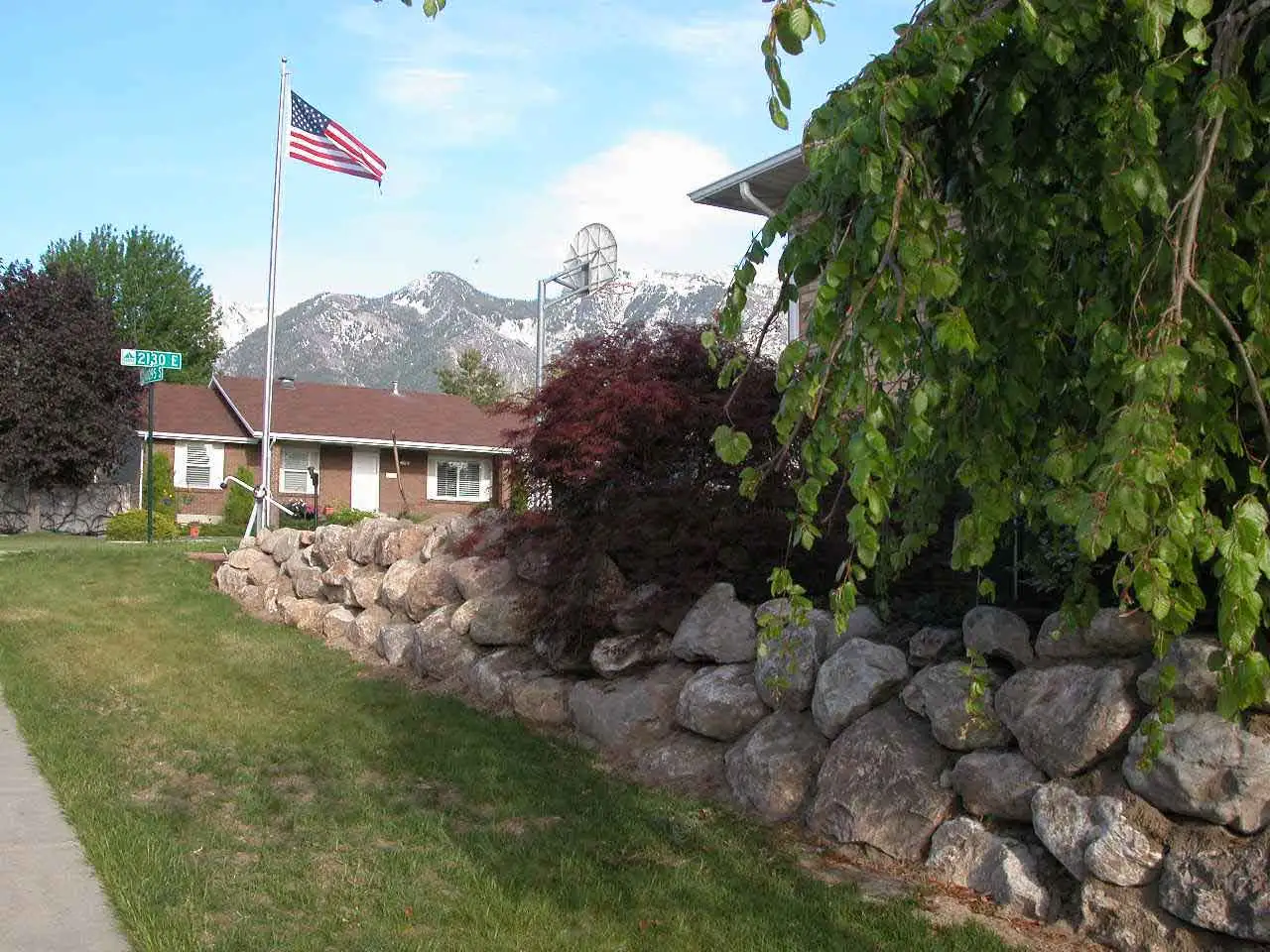 Your house looks picture perfect, from the tops of its shingles to its bottom-most entry step. Understandably, you want your yard to look just as beautiful and grand as your home, but you have a little problem: an uneven slope. It dips and drops, suddenly, and you worry that the soil around these areas will erode over time or make it unstable for your visitors. Maintaining your yard with those unmanageable hills can prove to be difficult and expensive.
Luckily for you, you can call on Cottonwood Landscapes LLC to transform your yard with beautiful retaining walls. Our walls are both functional and stunning, so you can make the most of your garden space.
Add A Retaining Walls​ To Your Backyard Oasis
Materials To Match Your Style
Many homeowners install simple retaining walls to hold or retain the soil. However, you can take this necessary feature a step further and turn it into an eye-catching focal point with the right materials. 
As a premium builder of landscaping and retaining walls, we understand that you want materials that complement your style. That is why we offer the following retaining wall materials:
Boulders
Bricks
Segmental Blocks
Dry Stacks
Wood Ties
Concrete
We use only top-quality materials to ensure that your retaining wall looks beautiful, refined, and elegant.
Aside from the materials that you use to actually build your wall, another key component of retaining walls is the finish, which greatly affects the durability and aesthetic of the final design. Learn about some popular surface finishes for retaining walls, below:
Stain: Perfect for any sort of interlocking materials, such as stone, brick, or concrete blocks. Water-based stains help give your wall a more complete, uniform look, and help protect it from the elements.
Stucco: If you use some cheap or unsightly materials to build your wall, then it can be to your benefit to apply a layer of stucco over the surface, which still provides texture to your wall and a natural aesthetic of earthy tones.
Veneer: Another great option to add to a plain or ordinary outer wall is veneer, which is a layer of thin bricks and stones that are held together by concrete. This is a more cost effective way to get the look of natural stone, but without a solid stone wall.
Inspiration For the Occasion
At Cottonwood Landscapes LLC, we understand that every home and homeowner is different. Your yard requires a special touch that only our talented designers can provide. Learn more about some of the uses that our customers commonly have for retaining walls, below:
Segment the backyard into different terraces with varying levels of elevation. This helps organize your backyard, better, and makes it aesthetically pleasing.
Separate your patio from the rest of the backyard with a retaining wall that puts your patio at a lower elevation from the rest of your yard, making it appear cut out.
Create a border in your front yard by placing retaining walls between your yard and the sidewalk. This is especially great if you use climber plants to adorn your walls.
Outline your driveway by raising your yard up on a retaining wall around the concrete of your driveway.
Elements Of A Retaining Wall
A retaining wall is different from other walls that you can use in your yard, due to the uniquely engineered design that goes into building one. There are several different key components of a retaining wall that make it functional and visually stunning. Here are the important parts of any retaining wall:
Outer Wall: The part of the wall that you actually see. This is where the beautiful materials, whether stone, wood, or concrete, are used.
Drainage Stone: A layer of stone that goes between the outer wall and the soil of the yard around it. It prevents water from gathering up behind the wall, and eroding the stone, concrete, or wood.
Filter Fabric: A thin layer of tough fabric that wraps around the drainage stone to prevent the soil from packing into the stone and preventing water drainage.
Batter: The batter isn't actually a physical piece of the wall, but is the angle at which the wall leans backward into the soil around it. Typically, it is recommended that retaining walls have a batter of 1 inch for every 1 foot tall the wall is.
Weep Hole: A gap in the wall that should be spaced out every 6 or so feet, in order to let excess water escape from the base of the wall.
Footing: A layer of concrete that is placed at the base of the wall for support.
Footing Drain: A pipe through the footing that carries water out to the weep holes in the wall.
One of the great benefits of having a retaining wall is the ability to add plants to the outer wall to help blend it in with the rest of your property. The key to doing this is to use climber plants, which include types of vines, ivies, and certain flowers. Here are some common types of climber plants:
Boston Ivy
Californian Lilac
Potato Vine
Hydrangeas
Chocolate Vine
Waterwheel
Variegatum
Tianna Jorgensen
2022-12-01
The people working in this company are honest hard-working individuals they get the job done and it looks amazing afterwards we are always sure to clean up as we go honesty and integrity is super important and this company has it
Overall I would say I am pleased with the design process and the installation. I had them regrade the slope and replace almost everything in my back yard. They replaced some clay with soil, regraded everything to slope away from the house, added a paver walkway, installed sod, and several other items. The workers showed up on time and worked very hard to get job done right and in a timely manner. The landscaping is beautiful, the paver walkway looks amazing, and most of the project looks great. You can tell that they know what they are doing and care about their work. My only frustrations were how they accidentally broke a rock feature and also how they missed some quality checks. Missing paver sand, pop up drains being buried too deep, and other minor items would all be quick and easy fixes if they had inspected the work or else responded to my requests before the ground froze. The good news is that they agreed to look at the missed items, and they agreed to fix them later… but I will have to wait 3-4 months for the ground to thaw and then hope that they are still willing to resolve everything then. They definitely got the most important things completed correctly in this project, and it really does look great. But it would have been a better experience if the final touches had been completed correctly and in a timely manner.
Not easy to locate, lacking any signage, but I was finally able to find the right Building.
Cottonwood did a great job with our paver and firepit installation. Very detail oriented and painstaking in their work. We are very pleased with the patio lighting scheme they designed. We have received many positive comments from friends and family and highly recommend Cottonwood Landscapes.
Ezequiel Sanchez
2021-09-22
Exelentes trabajos. .Buenos materiales y sus trabajadores muy atentos a las exigencias de sus clientes, muy limpios y ordenados, Trabajos garantizados.. los recomiendo ampliamente.
I hired Cottonwood Landscaping for 3 projects over 2 summers. A phenomenal job on the paver patio, the focal point of the yard. They were able to provide me with a landscaping vision that I could understand. I had bids from other companies who wanted to cut corners and use low quality materials. The plants and trees that were planted grew well. Their 6 inch steel edging is great. Drip watering in all planter beds.
Marcella Holman
2021-04-22
These guys are AMAZING!!!! They really value the community they are in. Thanks for allowing the public to receive your excess products at no cost.
Can A Pool House Be A Guest House?
While not its main purpose, a pool house can double as a guest house if you want or need it to. However, the pool house design should ensure that guests are not exposed to cleaning chemicals, and that pool equipment is safely stored out of the way so it's not a tripping hazard. You want the guest house to be a place your loved ones return to time and again, and a pool house may not be the best fit.
Can A Pool House Store Yard Tools
If you need a place to store a lawn mower, pruning tools, and other supplies for yard work, we suggest having a separate shed or outbuilding for that. To avoid cross-contaminating any fertilizer or pool chemicals and to keep pool toys clean, separate storage for yard and pool equipment is best. Cottonwood Landscapes does specialize in
outdoor buildings
, so get in touch if we can help you with additional storage structures at your home.
There's no question that adding a retaining wall to your home adds value to your life and your equity. Experts estimate that a Retaining Wall adds anywhere between 5-8% to your property value.
Don't wait any longer to start the Retaining Wall project of your dreams.