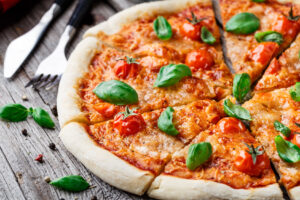 Fresh herbs are the ultimate cooking secret. They make the difference between a novice meal and a superbly crafted spread. They add flavor, color, depth, and even health benefits to our food.
But fresh herbs from the store can get pricey, and dried herbs just aren't the same. In order to get the full effect, you'll want to start your own kitchen herb garden.
Some Basics of Growing and Harvesting Herbs
You can put all of your herbs in one garden bed, but we recommend dispersing them throughout your yard, near walkways or next to your perennials.
Some herbs are best off in beautiful pots so that you can move them around as the seasons progress and change.
Only harvest ⅓ of the plant at a time, and wait for it to recover before harvesting from it again.
Trim off blossoms and flowers to ensure that the leaves are as pungent and flavorful as possible.
Most herbs require little maintenance, but often you'll be using new-growth plants, so you'll still want to give them some extra TLC.
We'll be splitting this post into a two-parter, so be sure to check back for the rest of the 7 recommended herbs. All of these recommended plants are easy to grow, and easy to use.
Basil
This worldwide favorite is a must for your herb garden because it's a flavor that simply can't be dried or bottled with the same effect. Basil's fresh, pungent scent adds excitement to any dish. Consider using it for any pasta, to make your own homemade pesto, or whip up a fresh caprese salad.
Basil needs generous sun, and moist, rich soil. It's very sensitive to frost, so you might consider growing it in a pot so that you can transfer it indoors if you have a cold front coming through.
Rosemary
Rosemary is one of the hardiest herbs you'll find anywhere. However, its germination rate is pretty low, so you might prefer to buy a rosemary plant already sprouted, or try to grow it from a cutting instead of starting by seed. Rosemary needs well-drained soil and plenty of sunlight.
Rosemary is a good friend of roast potatoes and just about any meat, from salmon to lamb to steak. It's also fun to use it to infuse some olive oil for later use.
Parsley
Parsley sprouts slowly, so you'll want to get this one started early in the season. Although it will continue growing for a few years, consider re-planting new seeds each year, since during the second year, flower stalks will appear and render the leaves bitter.
Parsley is one of the most famous garnishes, but it's good for more than that. Add it to quiche to add some depth, or create a fresh salad or tabbouleh.