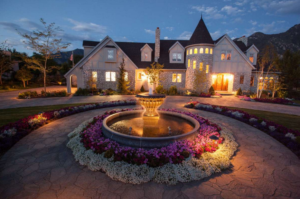 We often talk about creating dimensional lighting indoors, with a combination of ambient, accent, and task lighting. Outdoor lighting, however, tends to see far less attention. But without outdoor lighting, you can't enjoy the beautiful landscaping surrounding your home once dusk hits. Here is a brief guide to outdoor lighting in landscaping and which portions of your landscaping are best accented with outdoor lighting.
Walkways and stairs
Outdoor lighting is great for accenting decorative walkways and stairs in your landscaping. It also happens to be incredibly practical, as it can help you navigate your outdoor walkways and stairs at night. You might install lighting fixtures along your walkway, in decorative pillars surrounding your walkway, or in the vertical surfaces of your decorative stairs.
Water features
A fountain,waterfall, koi pond, or small stream is a great way to add interest to your landscape, and outdoor lighting can really highlight this focal point of your landscape. You might install waterproof lighting underneath a waterfall, or at the base of a stream, fountain, or koi pond.
Retaining walls
Does your landscaping (or dream landscaping) feature retaining walls made from rocks, bricks, or pavers? Maybe these retaining walls surround plant or flower beds, a fire pit, or a higher portion of land in your landscape. Decorative lighting makes for a wonderful accent to your retaining walls, and it will especially beautify your landscaping at night. You can install light fixtures on the vertical surfaces of your retaining walls, or you can install lighting underneath and along the top ledge of a retaining wall for a more hidden lighting style.
Fence line
Similarly, you might consider installing decorative outdoor lighting along your fence line. This is a great way to really complete your outdoor lighting system. Lighting installed in the ground, for example, can be used to spotlight a the vertical surface of a well finished fence.
Trees (and other focal points)
Outdoor lighting installed in the ground can also spotlight particular plants and shrubs in your landscape. Homeowners most often do this with small trees. This type of "spotlight" lighting can be used on other outdoor focal points as well, such as a mailbox, flagpole, or house number.
Dark corners
Another practical use for outdoor lighting is deterring burglars. Consider installing outdoor lighting in the darker corners of your landscape in order to keep burglars away from your property.
For more outdoor lighting inspiration, check out our outdoor lighting page and gallery here.