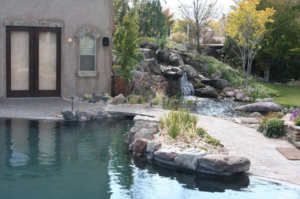 Water features are an often overlooked option for landscaping, but they can truly round out a space and turn a backyard into an outdoor retreat. And with the gentle sounds of rushing water, you'll never want to leave your landscape. Here is brief guide to the many options for water features that you can have in your own backyard.
Fountain
For a more traditional look, you might consider having a decorative fountain installed in your backyard and then surrounded by a stone walkway and decorative flowers and shrubs. For something with a more natural aesthetic, you might consider having a natural looking fountain installed in a rock bed or decorative stream. Fountains are also a decorative feature you can add to your outdoor swimming pool.
Pond
If you'd like to add water to your backyard, but a swimming pool isn't quite for you (or you simply want a more natural look for your landscape), a pond is a great option. You might install a small koi pond and surround it with natural rocks and plants for a small retreat in your backyard space, adorning it with a decorative waterfall, or you can install a larger pond and make it the focal point of your landscape, surrounding it with perhaps a waterfall, stream, stone walkway, and complementary plant life.
Waterfall
A waterfall is a great way to add interest to your landscape, and you don't need a great deal of space to install one. A waterfall can stand on its own, accented perhaps with decorative lighting installed underneath, or it can be part of a larger aquatic landscape that includes, for example, natural fountains, a stream, and a pond.
Stream
A stream, like a waterfall, can stand on its own or be part of a larger aquatic landscape. You might install something subtle in a corner of your landscape, surrounded by decorative rocks and plant life, or you might install a larger stream that incorporates waterfalls, or that calls for building a bridge into your landscape.
Swimming Pool
Then, of course, you have the option of installing a swimming pool. Keep in mind here that your backyard swimming pool need not resemble the standard rectangular concrete swimming pool that you grew up going to; a swimming pool itself can serve as a focal point of your landscape, being surrounded by decorative rock, waterfalls, plant life, and more.
For more water feature inspiration for your landscape, check out our water features page and gallery here.