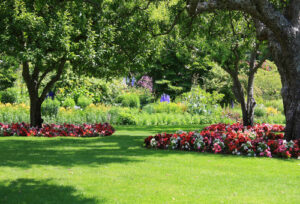 Now that summer is here, we can all expect long days of the sun beating down on everyone. While the sun definitely comes with its share of fun, it can become a drag right quick if it is too hot to do anything outdoors. However, there are things you can do to counter the extreme heat in your own little slice of land. Keeping your yard cool can give you a little oasis to relax, have fun, and enjoy company on your own time. To help in that endeavor, here are some tips for keeping your yard cool in the summertime…
Healthy lawn
First of all, a luscious and healthy lawn is a major factor in lowering the temperature in your yard. Grass absorbs the heat from the sun and turns it into energy, whereas other surfaces, such as dirt or concrete, reflect the heat of the sun back up into the air. This makes a major difference, and can be as effective as having three entire air conditioning units outside. To feel this in action, try standing on some fresh grass in the summer and then stepping onto some concrete. You can feel the contrast in temperature quite clearly.
Plant trees
In order to cool down your yard, you need to create shady areas that aren't being pounded by the sun, all day, every day. One of the most clear and apparent options to create shade in your yard is to plant trees. Trees have a multitude of ways that they can lower the temperature in your yard. First of all, the shade that a tree provides can make for cool and relaxing spots in your yard. On top of that, trees have a similar function to grass, where a portion of the sun's heat and energy is absorbed into the tree, meaning there is less of it bouncing around your yard.
Pergolas, gazebos, cabanas
The other great way to bring shade into your yard is to simply build it yourself. There are plenty of structures that you can build in your yard to offer a nice shady spot to relax and enjoy the company of loved ones, such as gazebos or cabanas. If you want a more natural aesthetic, you can even build your own pergola and cover it with ivy or wisteria. There are plenty of options for this type of shady-structure.