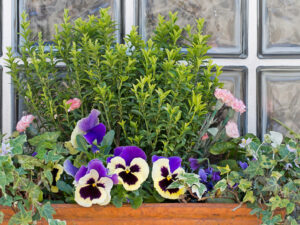 Considering installing flower boxes outside your windows, or filling existing flower boxes with spring florals once again? Flower boxes are a great way to add interest to your windows and happen to look especially elegant against a window that has been fitted with plantation shutters. Window boxes are also a great way to add a "garden" to your landscape, even if you don't have room in your yard for much gardening. Here are some of the best flowers that you can add to window boxes in the spring.
Pansies
Pansies are an excellent option if you want something bright that requires little maintenance. They can thrive in sunlight or shade, and they happen to come in a variety of colors like deep purple, fuchsia, deep red, golden yellow, and orange. Pansies do require cooler weather to heat, so you may want to plant these near another heat loving plant to keep your window boxes looking great all season long.
Petunias
Petunias are another great and easy option. They tend to occupy the cooler end of the spectrum in terms of color, ranging from light and deep purple to light and deep fuchsia. You'll also find petunias, however, in white, deep red, and even yellow and orange. Petunias can thrive in warm and dry climates as well, and they will do well even in window boxes that see a lot of sun exposure. Since petunias vary in size, from long-growing dwarf to towering spike size, you'll need to be sure to check the size of the petunias you are planting before planting them.
Impatiens
Impatiens are similar to petunias in that they come in shades of purple, red, and white. They do best in shady exposure with daily watering.
French Marigolds
For a pop of yellow-orange in your window boxes, French marigolds are a good choice. They can thrive even in warm, dry, and sunny climates, meaning that they'll work even in window boxes that see a heavy dose of sunlight throughout the day.
Geraniums
Geraniums are generally red, white, fuchsia, or pink in color, and they happen to be fairly low maintenance. They do well in high levels of sunlight, will bloom all season long, and can add a dimension of height to your window boxes.
Herbs
Herbs are a great option for window boxes installed on kitchen windows, as you can draw fresh herbs from them whenever you need them (conveniently pruning them in the process). Some of the best herbs for spring include chives, basil, parsley, and tarragon. You can also try planting Italian herbs like oregano, sweet marjoram, rosemary, and sage. Keep in mind that herbs do require a little extra care—often needing plenty of water on a daily basis.
For tips on planting flowers and herbs successfully in window boxes, check out our post earlier this month, Tips for Planting in Window Boxes!