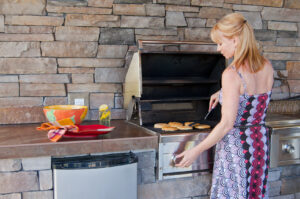 Winter in Utah, especially when it snows, can be almost unbearable at times, yet sometimes you still just want to enjoy the great outdoors. Sure, it might be too cold to go on your favorite hike in the mountains, but what's stopping you from having a little outdoor fun right in your own backyard? You'll enjoy the luxury of the outdoors without needing to commit to staying outdoors in the cold for very long. So how can you better enjoy your backyard during the winter? Here are five great ways.
Build a fire pit.
As we talked about earlier this month in this blog post, building a bonfire in your very own backyard fire pit is a great way to stay warm while spending time outdoors. You, your family, and your friends can spend time together around the fire while telling ghost stories, roasting hot dogs, and more. And if you're not sure if you want a full-on firepit in your backyard, another option is to build a fireplace into your outdoor patio.
Build an outdoor kitchen.
An outdoor kitchen is an oft-overlooked luxury that you can enjoy right in your own backyard. An outdoor kitchen will transfer your space in such a way that it almost feels as cozy as the interior of your home. Install a couple of space heaters on the patio next to your outdoor kitchen, and you can start making use of your outdoor kitchen frequently during the winter.
Invest in a hot tub.
If your home already has a patio, then you're only one step away from enjoying this backyard luxury during the winter. Invest in a hot tub and set it out on the patio near your back door so that you can get to warmth as soon as possible.
Install a patio cover.
You can also invest in a patio cover for your backyard patio in order to protect your patio from the harsh elements during the winter months. As with any patio, you can use space heaters to warm the space during the colder months of the year. As an added bonus, a patio cover will protect you from harmful UV rays during the summer, and it can protect things like your grill and outdoor furniture from seeing severe water damage.
Install a backyard building.
Or, if you'd rather, you might consider building a small backyard building for whenever you want a more private retreat.
Create a zen garden.
Of course, for the ultimate stress relief, you can create a zen garden with sand or pebbles and larger stones for a type of garden that lasts year round.