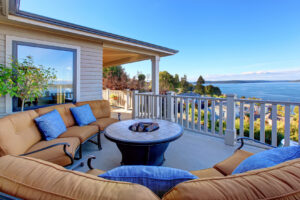 Winters in Utah can be brutal, and few things are better during the wintertime than gathering around a warm fire when it's cold outdoors. A blazing fire gives you and your family the opportunity to make dinner together, roast marshmallows, relish in deep conversation, and so much more. If you're looking to build a fire pit in your backyard and make it the ultimate space for relaxing and escaping the cold, here is a quick guide to making sure that your fire pit is everything you dreamed of and more.
Choose a style that coordinates with your home.
Does your home have a type of al fresco vibe? Is it brick-heavy? Or does blue-toned stonework pair best with your home? You should study the particular style of your home before you settle on the type of fire pit that you want. A professional landscaper can offer some great insight in this regard, helping you to find a style that will suit your home perfectly and help you feel at home as you spend time with nature.
Pair it with a patio.
Whether you make your fire pit a built-in feature on your patio, or you coordinate your patio to match a fire pit located elsewhere in the backyard, it's a great idea to create a stonework motif in your backyard. A professional landscaper can build a patio just outside of your home in such a way that it coordinates with your stone or brick fire pit perfectly. The two together will contribute to an outdoor space that is just as cozy as your indoor space.
Surround it with the right seating.
The seating that you surround your fire pit has a significant impact on how guests will enjoy their time around the fire pit. Outdoor wooden chairs and adirondack-style chairs are especially popular for fire pits. Adding outdoor cushions to your seating will help guests feel even more comfortable.
Have it double as a grill.
This is completely optional, but one fun feature to include in your fire pit is having it double as a grill using a metal grate that serves as a grill top.
Have it professionally built.
All of this is to say that it's definitely a good idea to have your fire pit professionally built. A professional landscaper is highly experienced in building fire pits and can build something custom that suits your yard and your home perfectly.