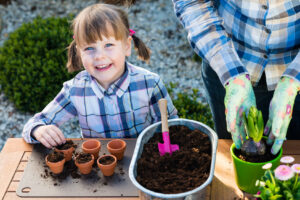 Although most of us only think about planting our flowerbeds in the springtime, the truth is that fall usually works just as well. In fact, there are some distinct advantages to planting in the fall that spring can't boast.
Advantages of Planting in the Fall
Especially around Utah, fall has a lot more beautiful days that are great for being outside and doing yard work. You're less likely to get an unexpected frost or storm than, say, April, which could threaten delicate new plants, or threaten the adjustment of a newly-planted flower.
The soil is warm and active, making ideal growing conditions for your plants until the cold really sets in for the winter.
Most garden centers are getting rid of their inventory for the year, which means you'll find perennials, bulbs, and shrubs at discounted rates.
Looking Ahead to the Spring
It's hard to remember during the fall, since it's a time of so much green and plenty. But by the end of winter, we're all starving for a glimpse of green, a few opening blossoms, a sign of life in our snowy yards. By planning now, you can ensure that your yard will be ready to wake up at the first signs of spring.
Bulbs Usually Blossom First
Most of the earliest-blooming flowers are bulbs. And what's wonderful about bulbs is that they actually prefer to live through a proper frost in order to bloom their best in the spring. Another great attribute of bulbs is that they're nearly foolproof. When you plant in the fall, they need little watering and care in order to deliver great results in the spring. You can plant bulbs anytime before the winter frost sets in, which is usually around mid to late October for northern Utah. However, bulbs will have the best chance at healthy spring blooms if they have 4-6 weeks in the soil before the frost.
Beautiful bulbs include tulips, daffodils, irises, and crocuses, which are usually the first flower to appear after a long winter.
Planting Perennials in the Fall
Again, perennials are on sale during the fall season, so it's the perfect time to invest in your garden. It's best to plant perennials a decent month before the first winter's frost sets in and halts any growth. Harsh winters can be hard on your perennials if they haven't gotten themselves properly established in the soil. If you're worried about cold temperatures shocking your newly-planted perennials, you can plant them a little deeper in the soil than usual, or cover them up with a layer of mulch to better insulate them.
Make sure that you fertilize the soil well as you plant your perennials to encourage vigorous growth right after planting. Follow the instructions for each flower, and choose a sunny, well-drained area in order to ensure that your flowers get what they need to bloom in the patchy spring months.