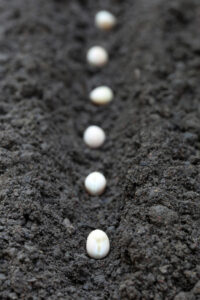 Every seed has its own growing season, so make sure that you plant seeds within the proper time frame to yield the most fruit.  March is a good time to plant hearty plants that can survive even if there is a late March frost.  Hardy vegetables can tolerate temperatures as low as 25 degrees Fahrenheit, and are perfect for early planting.  Semi-hardy plants can tolerate as low as 30 degrees Fahrenheit.
Tomatoes
Only plant tomatoes if you are starting them inside.  Tomatoes are very fragile, and a frost can kill the little seedlings. You may be safe to plant them late in March if you live in a warm enough environment.  
Spinach and Lettuce
It is best to plant spinach and lettuce early on in the season, so that they will produce plenty of harvest before the scorching summer causes them to bolt.  Starting it early in the spring will help you ensure that you will have a constant supply of greens through the spring and summer.  
Peas
Plant peas in March and April for a tasty May crop!  They are some of the first plants to fruit, so plant them soon!  Peas are a fun introductory seed for young kids, as they are large enough for them to easily plant.  
Broccoli
Broccoli, a cousin to the cabbage, can also survive freezing temperatures.  Plant them in your garden now, as they have to be ready to harvest before temperatures reach above 75 degrees Fahrenheit.  
Kale
Kale, like the other leafy plants, is a great vegetable to plant in your garden in the Spring.  You can harvest kale in as little as three weeks for the smaller leaves, and a month and a half for full-sized kale.  
Cabbage
Cabbage can also be planted early in the growing season.  Cabbage falls under the hearty plants, and can be planted even if there is a chance of frost.  
Beets
Plant your beets somewhere in the garden that experiences full sunlight.  They can be planted in the spring, but they grow best when soil temperature is at least 50 degrees Fahrenheit.  
Carrots
Carrots are a favorite for many Americans.  They are healthy, easy to eat, and easy to grow.  Plant them in the spring for a delicious harvest in the summer!
Irish Potatoes
Irish potatoes can be planted in late March, but be careful not to plant them too early, as their tops can be frozen off.  Just like beets, soil temperature should be at least 50 degrees Fahrenheit.
Brussels Sprouts
If you are a fan of brussels sprouts, make sure that you plant them early, as they are a very hearty vegetable.