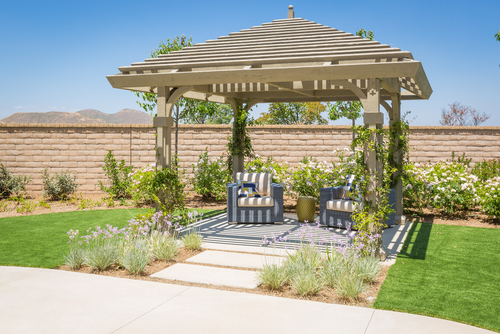 Here in Utah, when landscaping your backyard, it is critical not to exclude structures from your designs and plans. Things like sheds, pergolas, and arbors can be critical for aesthetic design, as well as from a practical standpoint for keeping your property safe during Utah's hot summers and harsh winters. Because of this, the team at Cottonwood Landscapes strives to help people in West Jordan create the perfect structures for their backyard. Learn more about the outdoor structures we build below!
Outdoor Structures We Build
Our team is highly experienced in all aspects of landscaping and has helped in the creation of countless outdoor structures. Here are some of the most popular structures we assist in designing and creating…
PATIO COVERS
We have a large inventory of high-quality patio covers that can help define your patio, bring shade to your landscaping, and protect you from the elements as you enjoy your yard. You can pick from a wide variety of different styles, sizes, and materials that match your home's design. Patio covers are basically a necessity if you have any sort of nice amenities on your patio, whether that be cooking appliances like grills and stovetops, or luxury patio furniture that you need to protect.
BUILDINGS
Outdoor buildings, like sheds and non-attached garages, help to bring practicality to your home and your landscaping. Our team can help you design and build these structures to be the perfect fit for your needs and design. We create these buildings out of a variety of materials, including wood, stone, vinyl, resin, and a whole lot more. If you are looking for more storage space, a workshop, or an indoor area to be a part of your backyard, reach and see what options are available to you.
Pergolas
Pergolas are a highly popular outdoor structure that people use to bring shade and relaxation to their backyard. All of our pergolas are made from high-quality wood and utilize top-notch craftsmanship to meet the desired look and feel of your backyard. In addition to that, we use weather-sealed finishes to always make sure that your pergola meets the requirements to survive in the harsh Utah elements.
And More!
Whether you are thinking of arbors, kitchens, or any other outdoor structure, the team at Cottonwood Landscapes can help you create it. Just because you don't see the structure you are looking for listed on this page, doesn't mean we don't offer it. Reach out and see what services we can offer today!
CONTACT US TODAY
Our team prides itself on excellent design and execution. Let our team of designers and technicians turn your landscaping dreams into reality. Contact us today to see how we can give you the backyard of your dreams!