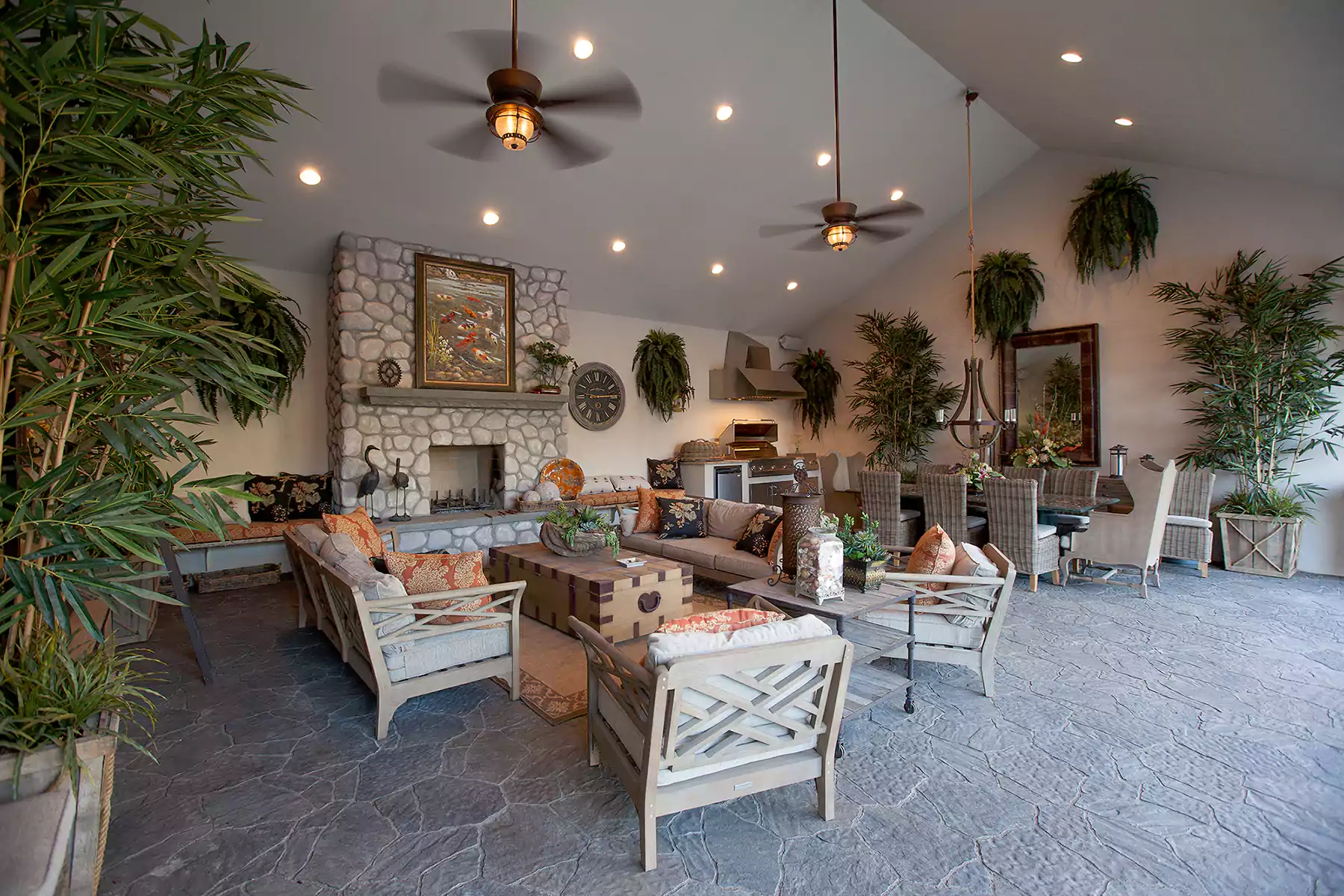 Make Your Backyard the Best Living Room
Who said that you had to slave over a hot stove inside all day to make a delicious meal for your family? Take your eating and entertaining outdoors with a beautiful outdoor kitchen and dining area.
Get an Estimate for Your Outdoor Kitchen
Amenities You Need for an Outdoor Kitchen
We can help you incorporate the following amenities into your backyard to make it the perfect oasis for all your entertaining needs:
Grills
Burners
Outdoor pizza oven
Refrigeration
Cabinetry
Sinks
Outdoor dining
Entertaining space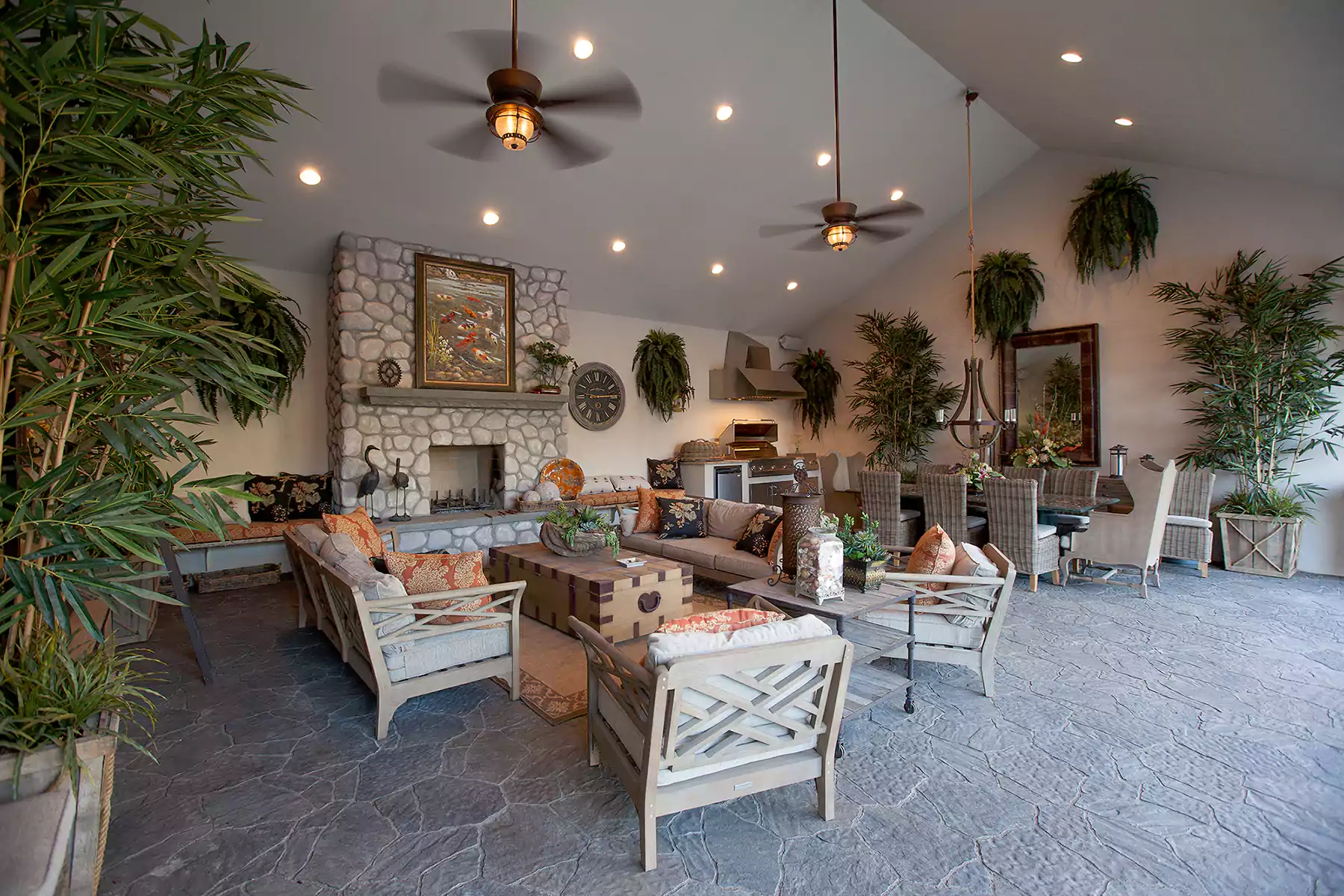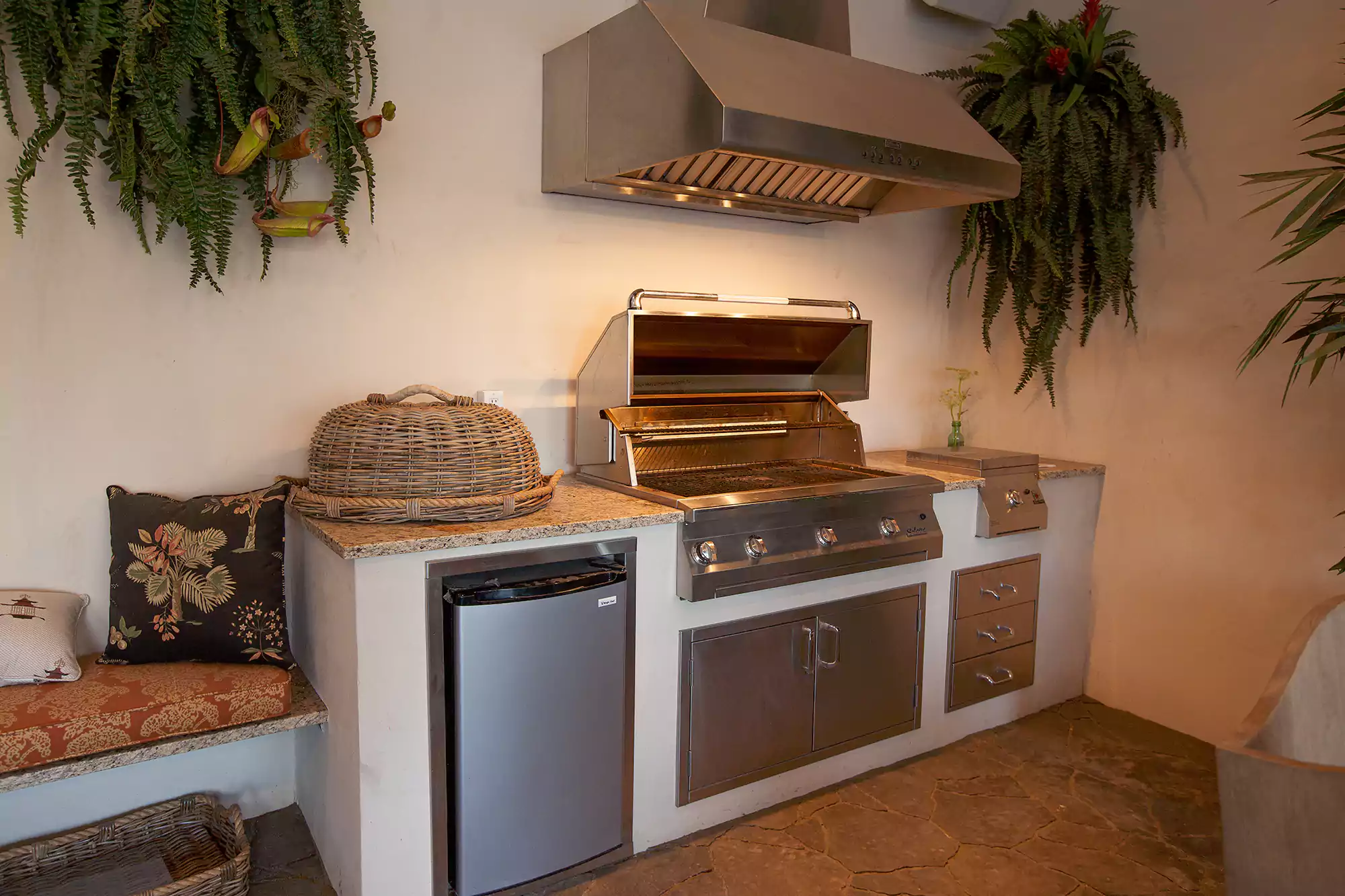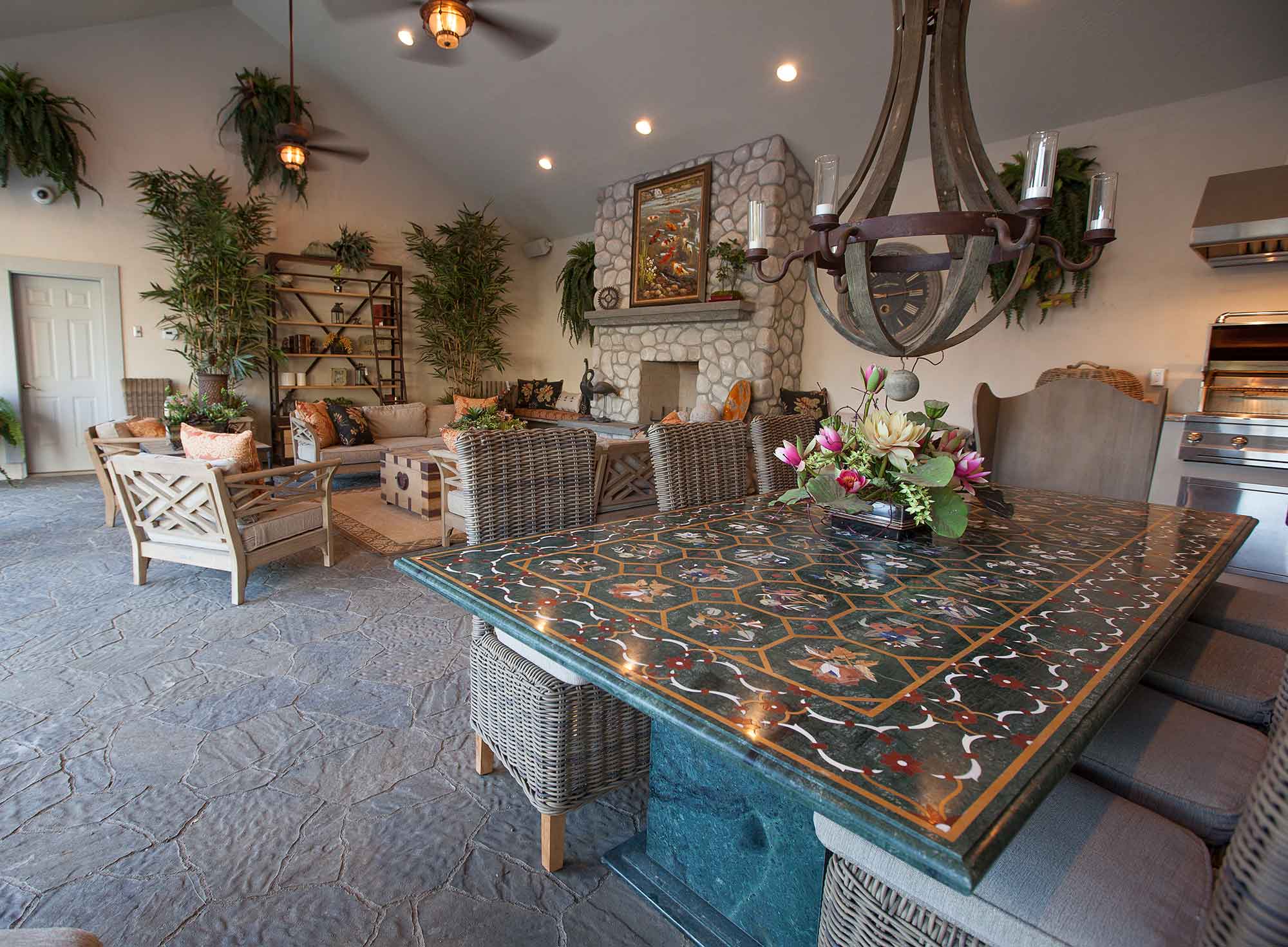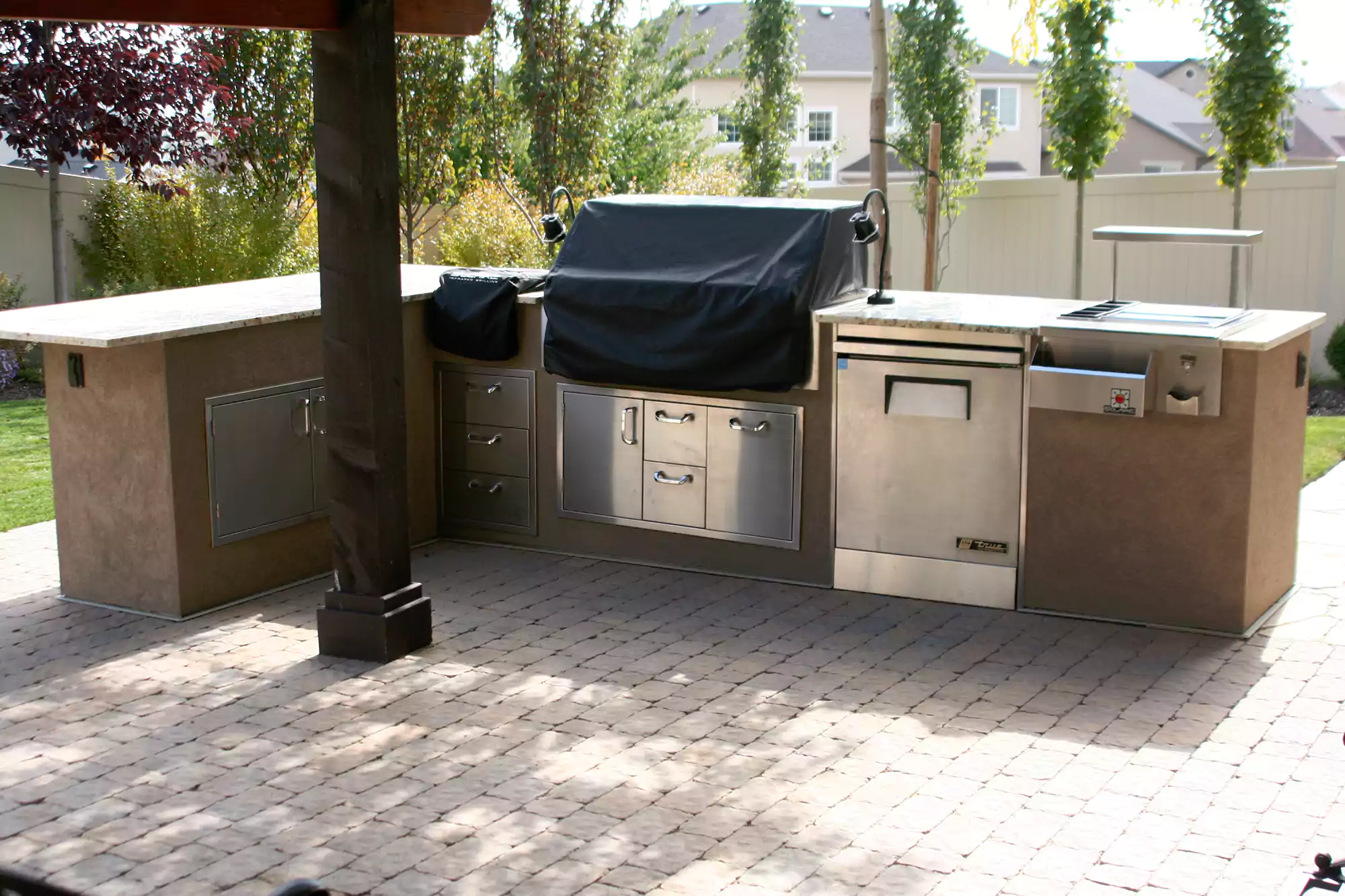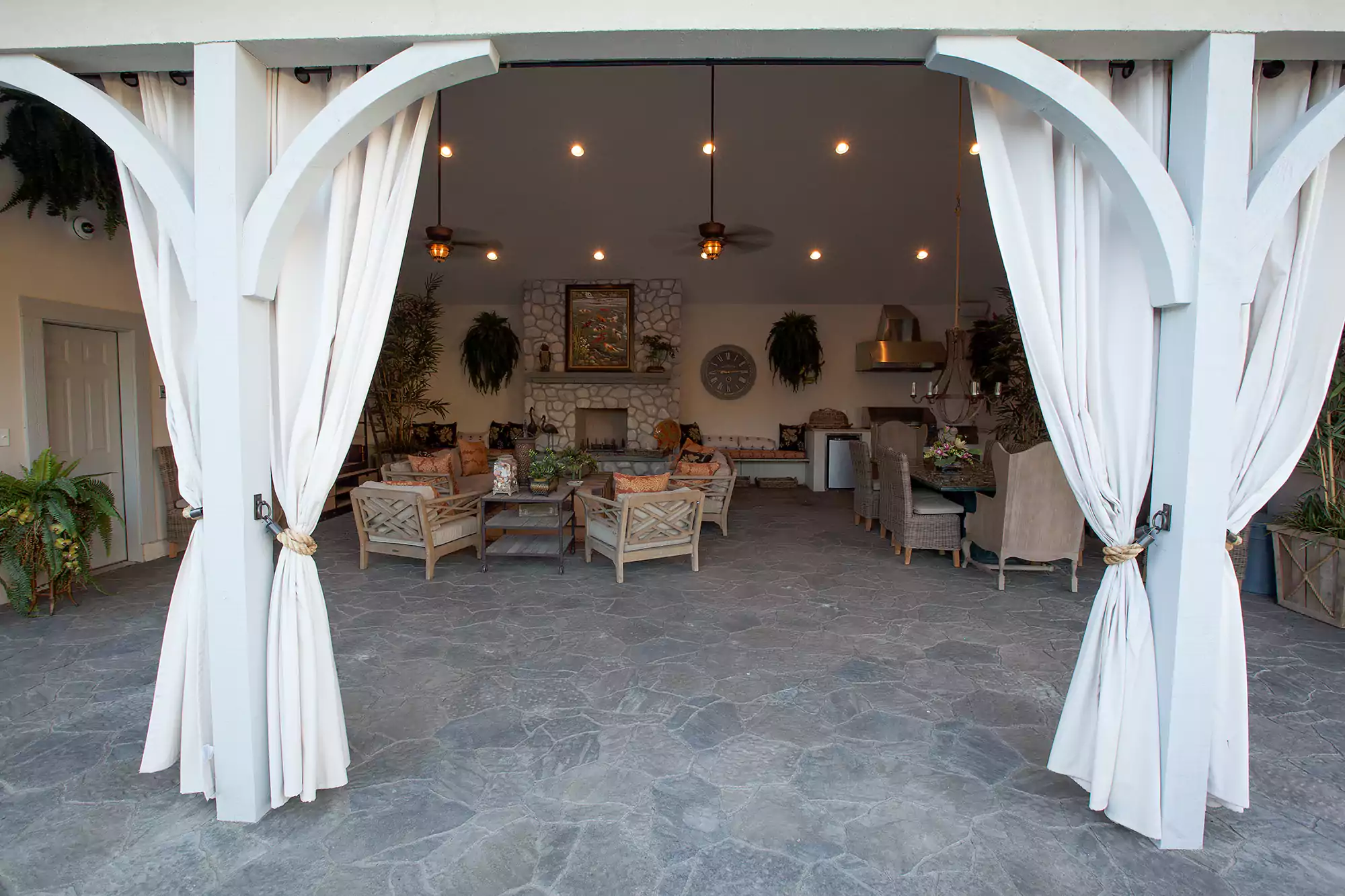 Why Add an Outdoor Kitchen to Your Yard
Outdoor kitchens are one of the hottest trends in backyard landscaping. It's the perfect way to turn any party into a special event and take your entertaining game to the next level. People love it because it's an opportunity to get outside with the family and enjoy a beautifully landscaped and functional yard. A patio kitchen allows you to host a gathering while still participating in all the fun.
Elements Of A Beautiful Outdoor Kitchen Space
Everyone has a different vision for their outdoor kitchen. It could be as simple as a grill with some patio furniture, or it might be a true imitation of an indoor kitchen, with granite countertops, convenient sinks, and a stylish backsplash on the stove. Here are some outdoor kitchen ideas to consider when designing your prep and cook space.
Flooring

: Flooring in an outdoor kitchen should define the space and help you keep the area clean. This could be anything from beautiful flagstones to landscaping gravel to a polished and stained deck.

Countertops

: Preparation space is the difference between a patched-together meal and a well-planned gourmet meal. We can customize a structure that will suit your needs, fit around your appliances, and fit beautifully into your space and your garden's aesthetic. You can also add storage space like drawers and cabinets. and/or a kitchen island that will give you preparation space and can be customized to fit your space and your garden's aesthetic.

Stoves and Grills

: What kind of cooking do you want to be able to do in your outdoor kitchen? The most common amenity is a grilling station, but some people also include a smoker, a wood-fired pizza oven, beer tap, a deep fryer, or a stovetop.

Appliances

: Certain kitchen appliances make cooking and entertaining outdoors easier. Stainless steel appliances are ideal for outdoor kitchens, no matter what aesthetic you're going for. Regardless of the finishes you choose for your appliances, imagine the convenience of having a freezer full of popsicles outside for swimmers, or a sink where you can wash fruit for a salad without dripping anything through your home. We help you properly plan out electrical wiring plans so that you have all of your conveniences available outdoors.

Shelter

: Make your outdoor kitchen homier by enclosing it with a patio cover or pergola, or by adding a stone fireplace. You'll ensure that your cook space is usable even in inclement weather. You can add draperies on the roof and around the perimeter to increase the feeling of shelter and comfort when the weather's not optimal.
Once you've determined the basic layout of your outdoor kitchen, you can add decorative details that make it a truly comfortable and unique space to spend your time. Outdoor furniture and thoughtful natural elements will make your outdoor kitchen your favorite place to spend time!
What To Know Before Building Your Outdoor Kitchen
When it comes to planning your large or small outdoor kitchen, we help our clients in the preliminary stages with both the design and the practicalities of making it a reality. This includes prepping for the following aspects:
Type of Building Materials
Storage Options
Power (sufficient outlets and voltage)
Water (supply and drainage)


Don't skimp on convenience or luxury for your outdoor kitchen. Preparing and cooking food on the back deck or patio should be just like meal prep in a high-end indoor kitchen. Ensuring you have the right hookups and layout makes outdoor meals a breeze.
Cottonwood Landscapes, LLC can make your dream yard a reality. Not only do we design and install outdoor kitchens and fire pits for Utah homes, but we also build porches, patios, pergolas, and any other outdoor structure that enhances your yard's natural beauty. We're experienced with planning outdoor living space, so we understand the best practices for bringing conveniences like gas, electricity, and water into your outdoor structures while still maintaining focus on creating a modern outdoor kitchen that's high-end and inviting.

If you want your outdoor kitchen designed by a professional, you've come to the right place. Our team works with only the best materials and has years of experience. We design spaces that fit in beautifully with the architecture of your home and existing outdoor amenities.

When you describe your perfect al fresco kitchen or fire pit, we listen. A great deal of our own satisfaction comes from knowing you're satisfied with the final product. Contact us today to start planning the outdoor kitchen of your dreams!
Complement your stunning outdoor kitchen with any of the other landscaping and hardscaping services Cottonwood offers to Utah clients:
Check out our comprehensive list of landscaping services here.

Picture what your yard could be with any number of the services available from Cottonwood Landscapes. When you're ready to get started on your yard transformation, contact Cottonwood for help achieving your vision.
Cottonwood Landscapes built a 20' semi-circular raised patio with pavers, along with some related projects that also involved electrical, carpentry and masonry. My feedback is very positive. Their design skills are excellent. They had a much better vision of the finished product than I did. Their crews were professional, dependable and talented. They knew what they were doing and showed up for a full day of work every day. They also had very good masonry and carpentry subs. And they were generally responsive and easy to work with. I will say this--they aren't cheap. There were some charges that had me scratching my head and we did have a few back and forths. But the questionable charges were relatively small compared to the overall price and I would much rather have a finished product that I love than take a minor price reduction. I would recommend them with confidence, especially for those with high standards.
Tianna Jorgensen
2022-12-01
The people working in this company are honest hard-working individuals they get the job done and it looks amazing afterwards we are always sure to clean up as we go honesty and integrity is super important and this company has it
Overall I would say I am pleased with the design process and the installation. I had them regrade the slope and replace almost everything in my back yard. They replaced some clay with soil, regraded everything to slope away from the house, added a paver walkway, installed sod, and several other items. The workers showed up on time and worked very hard to get job done right and in a timely manner. The landscaping is beautiful, the paver walkway looks amazing, and most of the project looks great. You can tell that they know what they are doing and care about their work. My only frustrations were how they accidentally broke a rock feature and also how they missed some quality checks. Missing paver sand, pop up drains being buried too deep, and other minor items would all be quick and easy fixes if they had inspected the work or else responded to my requests before the ground froze. The good news is that they agreed to look at the missed items, and they agreed to fix them later… but I will have to wait 3-4 months for the ground to thaw and then hope that they are still willing to resolve everything then. They definitely got the most important things completed correctly in this project, and it really does look great. But it would have been a better experience if the final touches had been completed correctly and in a timely manner.
Not easy to locate, lacking any signage, but I was finally able to find the right Building.
Cottonwood did a great job with our paver and firepit installation. Very detail oriented and painstaking in their work. We are very pleased with the patio lighting scheme they designed. We have received many positive comments from friends and family and highly recommend Cottonwood Landscapes.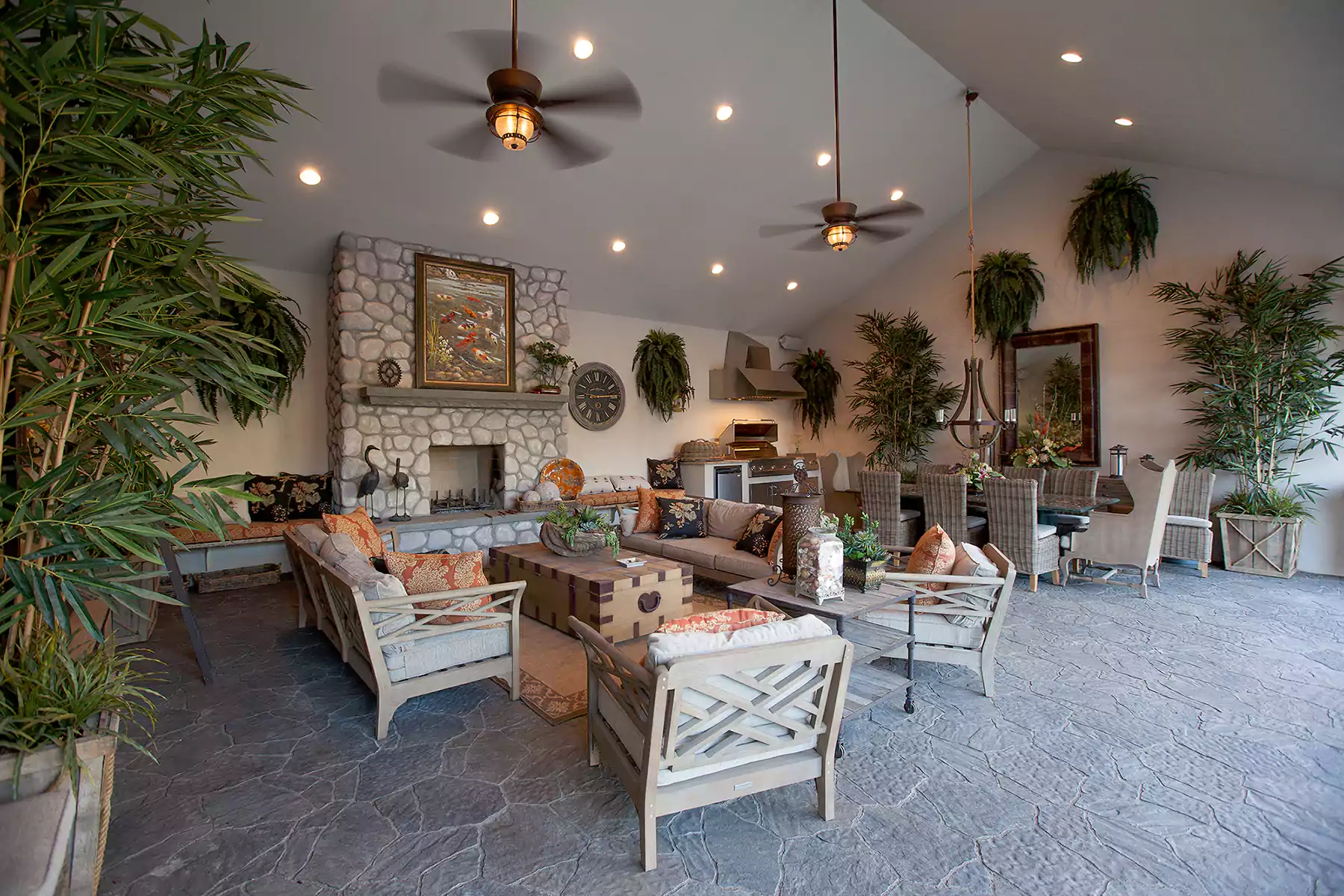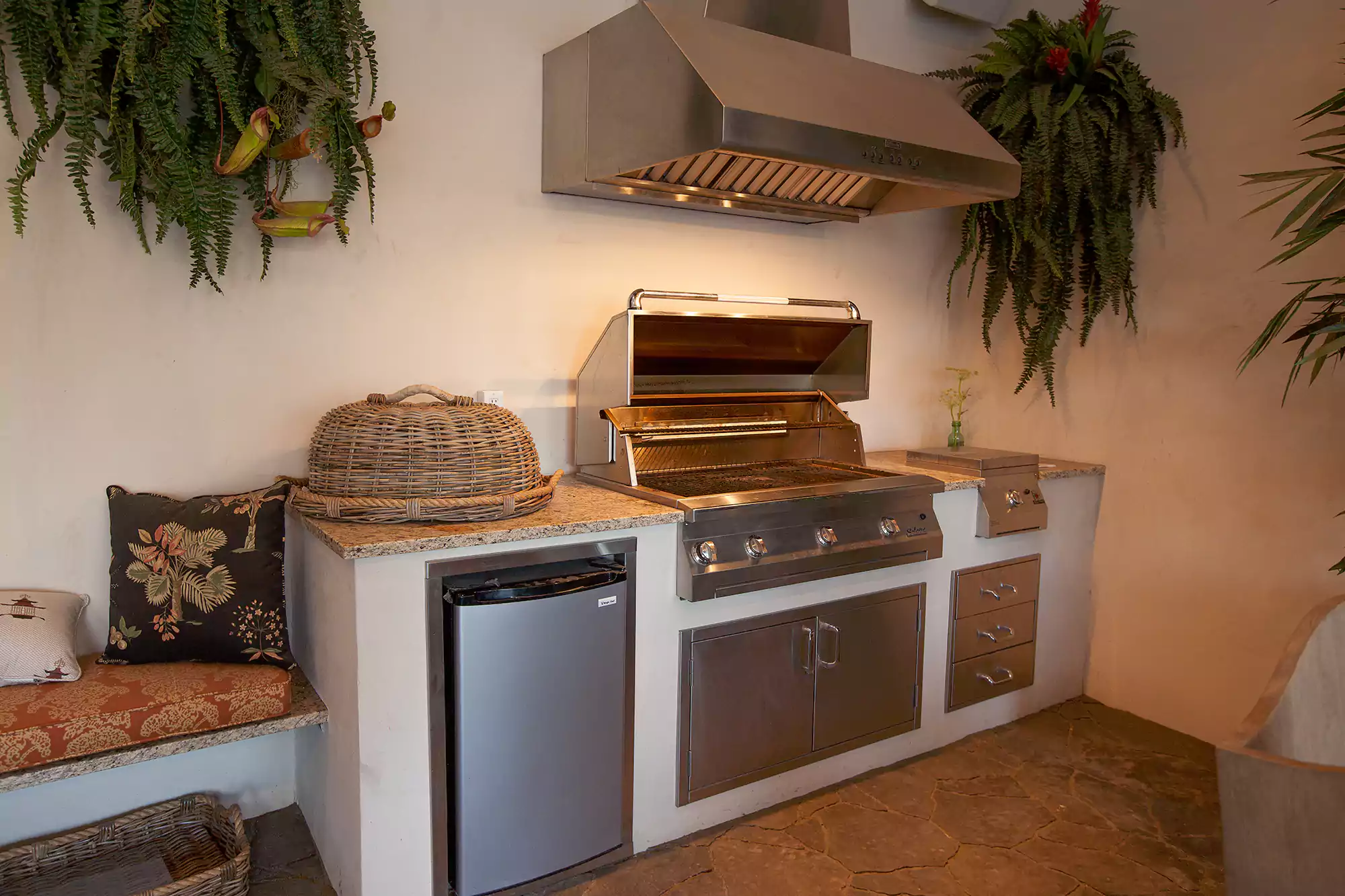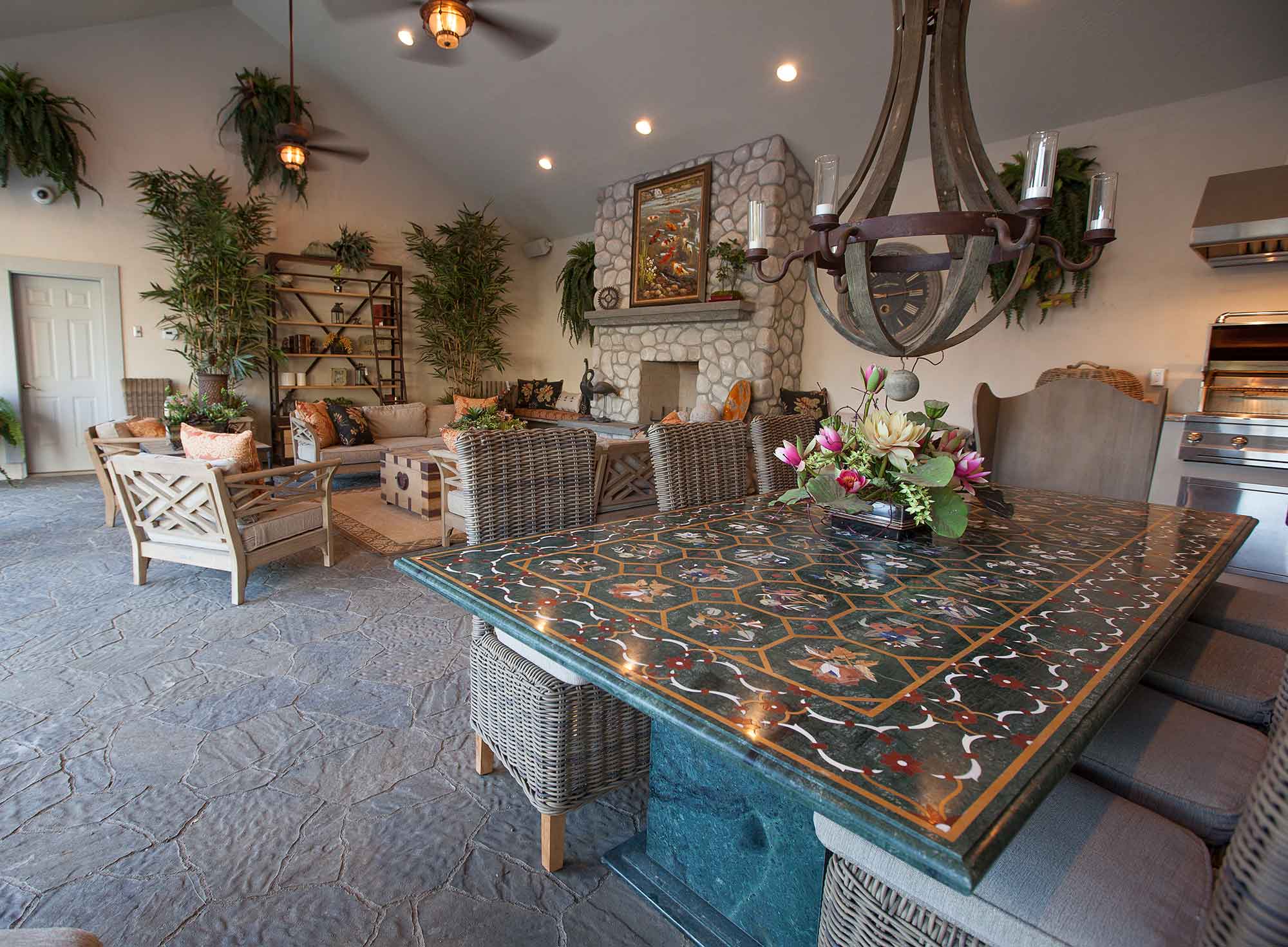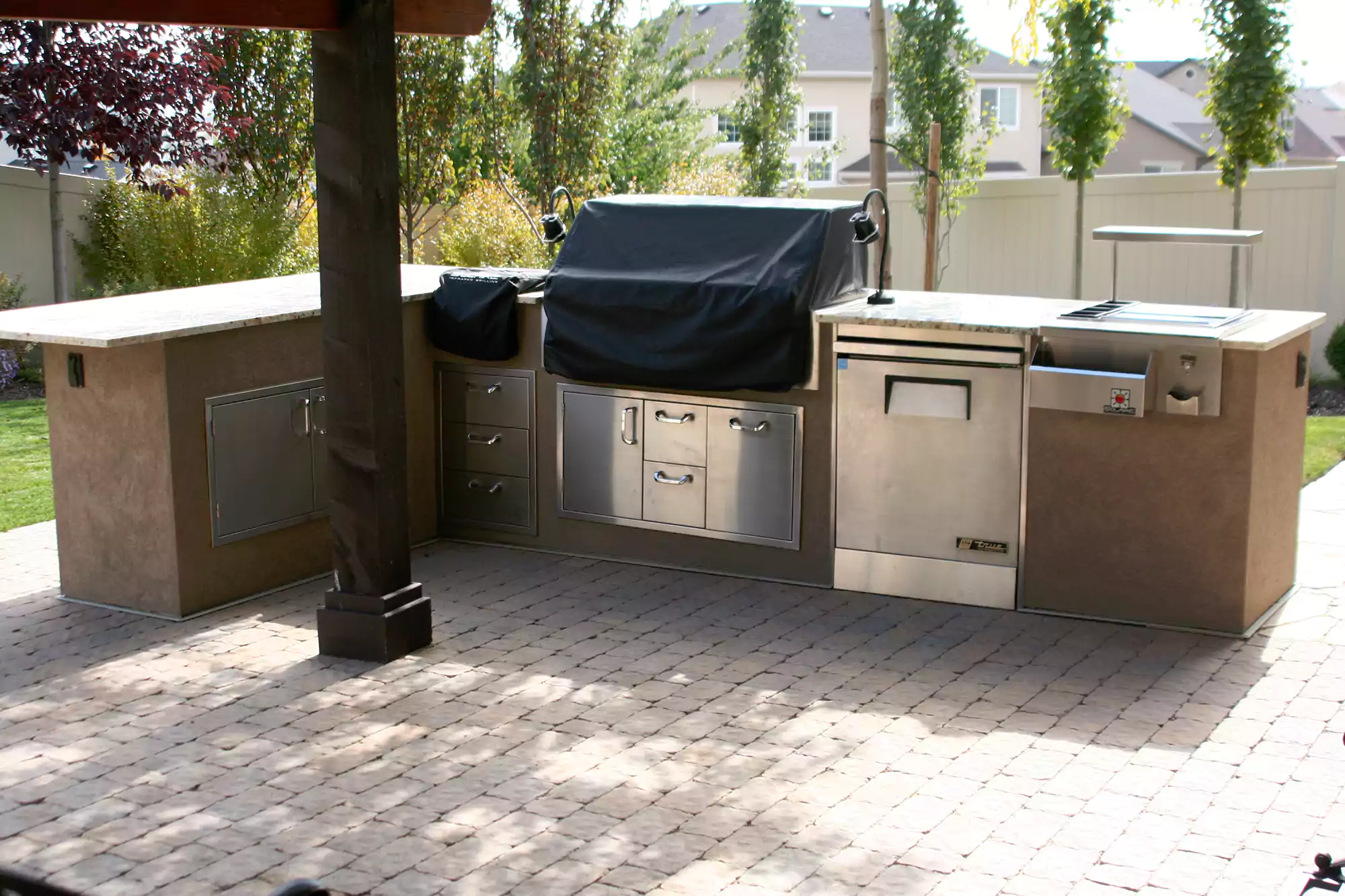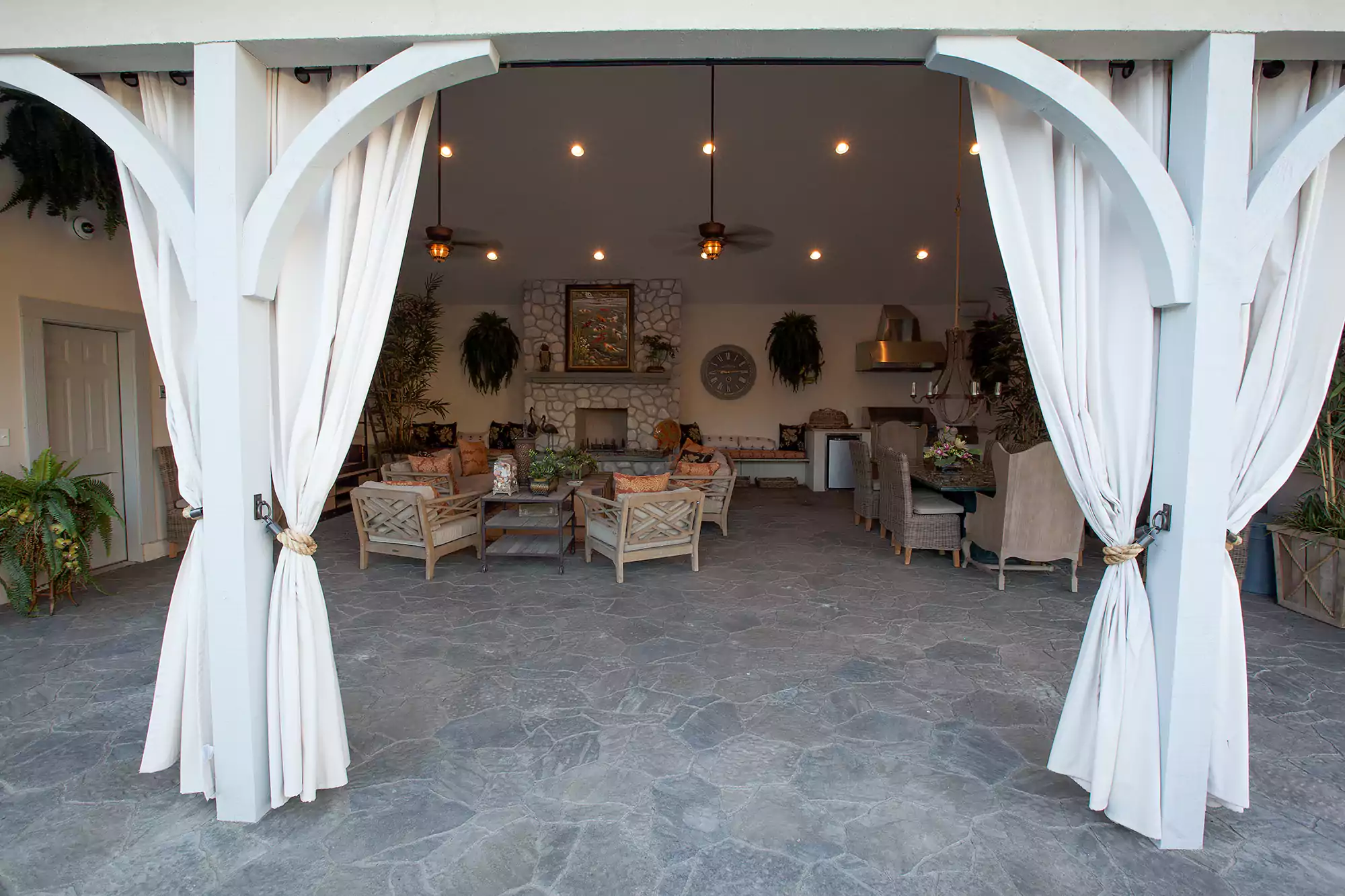 There's no question that adding a Outdoor Kitchen to your home adds value to your life and your equity. Experts estimate that a outdoor kitchen adds anywhere between 5-8% to your property value.
Don't wait any longer to start the Outdoor Kitchen project of your dreams.