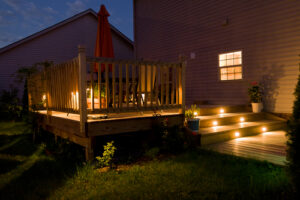 Your backyard deserves to be a beautiful outdoor getaway for you and your family. The ideal backyard can look drastically different for different individuals. Maybe it's a child's paradise, with play structures and sandboxes. Or a lush lawn with paving stones and a firepit. Or maybe your ideal backyard is a covered deck or patio with an outdoor kitchen and twinkling lights strung overhead. Whatever your dream is for your backyard, we want to help make it possible, and we truly have the expertise and experience to make it happen quickly!
When it comes to installing patios or decks, sometimes the job isn't just as simple as adding a deck. For instance, if your home is two stories, you may want to have the deck extend up to the second floor, so you can have a better view of your city. Our decks are incredibly sturdy and made with care, but you'll still need a way to get up to the deck if it's two stories tall! We're experts at creating sturdy stairs to transport you to and from the top floor of your deck with safety and ease.
In addition to crafting stairs, we also would love to help you build and install a bench for your yard. A bench is the perfect addition to a front porch! Available in many different styles, wood grains, and colors, your creativity is the limit!
We are able to craft and create absolutely any structure for either your front or back yard that you can dream up. Gazebos, arbors, rose trellis', and beyond. If you feel like your yard is missing something, we can help you figure out what it needs! The yard of your dreams is just around the corner, and Cottonwood Landscaping is here to help you realize those dreams.