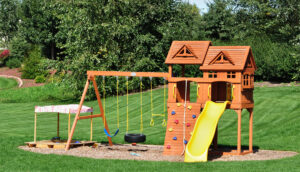 Any child's yard is incomplete without a swing set. There's something about the playground that brings a whole new appeal to playing outdoors. But how do you incorporate a play set into the landscape design of your yard?
#1 Priority is Safety
As with anything regarding your children, safety has to be first. The chances of a fall from the swing set are pretty high (knowing the way that children play) so the most important part of preparing your yard for a swing set is installing ground cover under the swing set. It's best if this material is:
shock absorbent and cushioned
easy to maintain
child-and-pet safe
The ground cover should resist invasive weeds, and define the area around your swing set, distinguishing it from the rest of your yard. For the comfort of your children, the ground cover should also be foot-friendly, and not absorb too much heat from the sun.
Preserving Your Equipment
Many people assume that grass is the best ground for a play zone, but that's not usually the case. Sure, lush healthy grass feels great underfoot, but frequent traffic will wear down the grass under a swing set, leaving you with hard, packed dirt.
It's also important to consider what will be needed to maintain the grass. Sprinklers and moist soil will wreak havoc on your playground equipment. Metal parts can rust and wear, and wooden beams will rot and crack. And then, of course, there's the challenge of mowing and maintaining the lawn under the swing set.
Aesthetics
In addition to safety and maintenance considerations, of course you want your yard to look great. A good base for under your swing set will set off the area to advantage, define the borders, and create visual interest and variety in your yard.
Here at Cottonwood Landscaping, we have great options for the ground cover underneath your swing set. Not only can we help you find the proper materials, but we can also help you with installation. That includes preparing the soil, edging the lawn, setting down weed-resistant mat, and placing your ground cover of choice, whether that's play sand, mulch, or chips. Talk with us about your situation and we'll help get you set up with a playground that's ready to go!