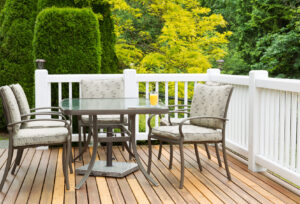 Although a fence seems like an easy thing to install at first glance, there's more to it than meets the eye.
Fencing is a vital component of many planned landscapes. Here are some situations in which you'll need a sturdy, well-designed and well-installed fence.
Separate Areas for Sports, Pool, or Pets
Sometimes fencing is the perfect way to partition your yard for different purposes. For example, if you would like to add a tennis court, you'll need to define the boundaries and separate the court from the rest of your yard's landscaping and design. Fences can also be an important part of any pet-owner's yard. If you have a dog and want to give it free range of the yard, but keep it from wandering into the neighbors' spaces, you need a sturdy and secure fence. If, on the other hand, you have chickens, or you want to reserve just a small area of your yard for pets and livestock, it's nice to have a smaller fenced-off area.
Lastly, if you have a pool, fencing is a safety must. Whether or not you have kids, it's smart to be a conscientious pool owner and take safety precautions that will protect neighborhood kids from disaster, and yourself from liability. The US Consumer Product Safety Commission strongly recommends that fences completely encircle the pool and that they're at least four feet in height (although they recommend higher). The fence should also have self-latching gates and be free of paraphernalia that can provide a stepping-stool over the gate.
Railings for Decks and Patios
Your deck isn't complete until it's been wrapped with a railing, especially if it's not at ground level compared to the rest of your yard. Railings will keep your deck or patio a safe play space for family events and parties. They also greatly add to the aesthetic design of the new structure in your yard. In the case of parties and other events, the railing is a great resource for decorations that will add to the festivities. We can choose a fence or railing that will best suit and match your deck in order to give it a seamless, finished look.
Entire Yard Wrap
Ever heard the adage "good fences make good neighbors?" Well, it's usually true. Wrapping your yard with a fence has numerous advantages. For one thing, it will increase the privacy of your yard, providing cover so that your back yard activities aren't open to the public and you can truly relax in your own space. Fencing in your yard can also have the advantage of defining your property boundaries so that there are no misunderstandings between you and a neighbor. Lastly, a fence can be an excellent design element in your yard, that can set off your greenery and landscaping to best advantage.
Some Important Steps Before You Fence
Check to see if you need building permits
Check with your Home Owner's Association (if you have one)
Clear it with neighbors
Determine what kind of fence you need
Call 811 before you dig
Get professional help to make sure the job is done right