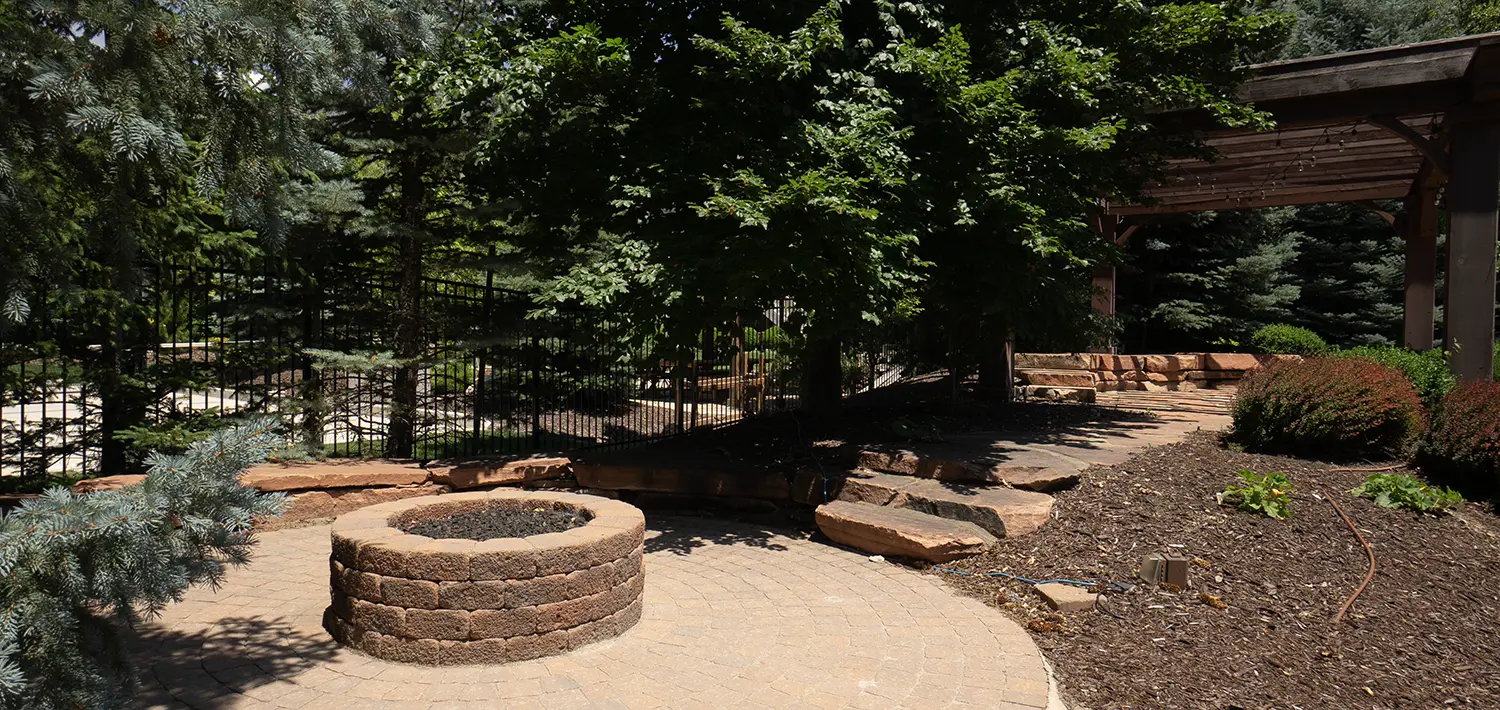 Want to make your party linger? Chase away the evening's chill! A mesmerizing fire is the perfect place for people to gather and settle into a comfortable conversation.
A fire pit or fireplace instantly makes your yard into a festive venue to enjoy with your friends and family. No wonder it's one of the hottest (no pun intended) trends to rise in landscape design in the last few years. Not only does an outdoor fire pit draw you outdoors and give you more opportunity to enjoy your yard, but it also increases the property value of your home.
Add A Fire Pit To Your Backyard Oasis
Spend More Quality Time In Your Yard
The possibilities for hosting and entertaining are endless. Grill a feast for the Fourth of July, roast marshmallows over an open fire as you tell ghost stories, and bond with your children as you teach them the proper method for building a wood fire. It can be the perfect place to enjoy the fireworks that light up the sky all July in Utah. You can spend relaxing moments there with your spouse, or make it a fun hub for your kids and their friends.
Our team is experienced with planning and installing backyard fire pits. With the help of our expertise, you won't have to worry about unforeseen complications, and you can rest assured that your property is safe. Here are some factors to consider when installing an outdoor fireplace:
Proper placement: Deciding where the fire pit will go in your yard is the first step. Although you might have your heart set on a certain location after an initial glance at your yard, it's important to remember safety measures (like setting it a certain distance from low-hanging branches and dry brush) and the practical limitations. We can help you find the perfect place for your fire pit.
Gas line: If your fire pit or fireplace is going to be gas-powered, it will need to be properly and safely installed. You might need to factor in certain limitations on placement and distance from the main gas line as you plan your yard's layout.
Fire safety measures: Safety should always come first, and you can't be too careful when it comes to an open flame in Utah's often-dry summers. Proper planning and thoughtful placement will ensure that your fire pit is safe to use for both you and your family. We can help you understand the proper dimensions and construction considerations that keep the flame contained.
Bordering for optimal comfort and safety: Besides the pit itself, there are factors like seating and flooring that need to be considered. Since we offer a wide range of services, we can accommodate custom options that you want for your backyard firepit. Seating, counter space, or flagstones that match the aesthetic of your yard can all be provided by our professional team of designers and technicians.
Additional conveniences: Want a storage compartment where you can keep marshmallow sticks and outdoor pillows? How about additions that turn your fireplace area into more of an outdoor kitchen or living room? The possibilities are endless! We're dedicated to making the yard of your dreams a reality.


It's easy to create an outdoor space that's just as cozy as the inside of your home. Or you can design a plan that looks at home in nature. Either way, you'll love spending your evenings next to a cozy, inviting fireplace or fire pit.
Cottonwood Landscapes built a 20' semi-circular raised patio with pavers, along with some related projects that also involved electrical, carpentry and masonry. My feedback is very positive. Their design skills are excellent. They had a much better vision of the finished product than I did. Their crews were professional, dependable and talented. They knew what they were doing and showed up for a full day of work every day. They also had very good masonry and carpentry subs. And they were generally responsive and easy to work with. I will say this--they aren't cheap. There were some charges that had me scratching my head and we did have a few back and forths. But the questionable charges were relatively small compared to the overall price and I would much rather have a finished product that I love than take a minor price reduction. I would recommend them with confidence, especially for those with high standards.
Tianna Jorgensen
2022-12-01
The people working in this company are honest hard-working individuals they get the job done and it looks amazing afterwards we are always sure to clean up as we go honesty and integrity is super important and this company has it
Overall I would say I am pleased with the design process and the installation. I had them regrade the slope and replace almost everything in my back yard. They replaced some clay with soil, regraded everything to slope away from the house, added a paver walkway, installed sod, and several other items. The workers showed up on time and worked very hard to get job done right and in a timely manner. The landscaping is beautiful, the paver walkway looks amazing, and most of the project looks great. You can tell that they know what they are doing and care about their work. My only frustrations were how they accidentally broke a rock feature and also how they missed some quality checks. Missing paver sand, pop up drains being buried too deep, and other minor items would all be quick and easy fixes if they had inspected the work or else responded to my requests before the ground froze. The good news is that they agreed to look at the missed items, and they agreed to fix them later… but I will have to wait 3-4 months for the ground to thaw and then hope that they are still willing to resolve everything then. They definitely got the most important things completed correctly in this project, and it really does look great. But it would have been a better experience if the final touches had been completed correctly and in a timely manner.
Not easy to locate, lacking any signage, but I was finally able to find the right Building.
Cottonwood did a great job with our paver and firepit installation. Very detail oriented and painstaking in their work. We are very pleased with the patio lighting scheme they designed. We have received many positive comments from friends and family and highly recommend Cottonwood Landscapes.
There's no question that adding a fire pit to your home adds value to your life and your equity. Experts estimate that a fire pit and fire place adds anywhere between 5-8% to your property value.
Don't wait any longer to start the Fire Fit project of your dreams.