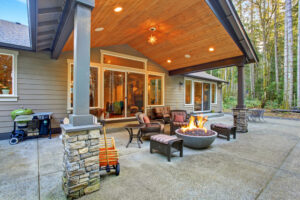 Located in southern Salt Lake County, Sandy was originally a mining town as workers mined for silver in Little Cottonwood Canyon. It has since significantly grown and developed into a great metropolitan city. A community located at the base of the Wasatch mountains. With easy access to award-winning Big and Little Cottonwood Canyons. We have helped people all over Utah transform their property into stunning sceneries. The mountain scenery is so close and we understand that you want your yard and landscapes to match the beautiful mountain view. If you need someone to help you create the landscaping design of your dreams, contact Cottonwood Landscapes, LLC.
EXPERIENCED SERVICE
For over 27 years, Cottonwood Landscapes has created almost every type of high-quality residential landscape design that improves curb appeal. Examples of previous projects include:
CHECK OUT OUR GALLERY
Our local employees are proud of our community, and we want to make it the best it can be. If you'd like some inspiration for your home, check out our gallery. Our gallery offers ideas for many of our different services and our employees can help you make your dream come to life.
CONTACT US
As landscape professionals, we know how important it is for a landscape to add to the beauty of your home. Whatever your idea, our landscaping design services can help you accomplish it. Whatever landscape you have in mind, we can do it. Trust us to complete your unique project in a timely, detail-oriented fashion. We never leave a job until we finish the project to your satisfaction. For more information about our landscaping design in Sandy, UT, call 801-679-2452.