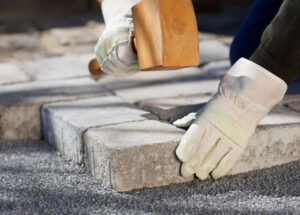 Bountiful is a special place in the whole of Utah because it is widely regarded as one of the more beautiful places in the state to live. Replete with parks, mountain trails, and fantastic community comforts like low cost of living and a great school district, Bountiful has steadily become a haven for those looking for good neighbors and well-zoned neighborhoods. Your home fits in that tradition. For visitors of the city, it becomes clear that on average homes are nicer and landscaping more nuanced in Bountiful, and so every change you make to your yard not only beautifies your property but everyone around you benefits as well. 
One of the most common questions facing homeowners when beautifying their landscape is how to handle walkways around the yard. There are two generally accepted ways to lay down paths: flagstone and pavers. While the variety of building materials also comes with variables in cost, durability, and upkeep, our team of landscape architects is adept at turning your vision into a reality.
The Benefits of Flagstone
For homes near Bountiful's historic Mueller Park, the rugged, naturalistic beauty of flagstone is a great choice for those looking to fit in with their surroundings. Flagstone has some great qualities for any homeowner. Flagstone is:
Strong: Often the trouble with certain types of pavers is that the stone used can be quite brittle, such as brick. Small cracks turn into big cracks, and eventually into troughs wherein weeds can grow. Flagstone is made of stronger stuff and will maintain that look of wonderful uniformity in its quality for years to come.
Versatile: Those who are familiar with flagstone walkways might describe them as incredibly different, one from another. That is because, in the hands of an experienced master, flagstone can be cut and shaped to fit any design. And because the flagstone is quarried instead of created, each stepping stone will be as unique as anything else found in nature. 
Easily Maintained: As mentioned above, the benefit of flagstone's durability is that there will be less maintenance around parts that break, wear down, or crumble. The flagstone is naturally coarse as well, which makes for a better walkway in predominantly cold or wet climates, thanks to its rough traction.
Because flagstone is heavy, natural, and requires more upfront shaping by our team, the price of using this material often trends much higher than traditional paving stones. However, flagstone is consistently a source for high praise by satisfied customers, and you will feel that too.
Choosing Pavers
Despite the benefits of using flagstone, paving stones come with their complement of pros as well. With the control and ease-of-use that pavers give landscape architects, homeowners get to enjoy a more bespoke type of elegance. By using stones like brick, concrete, marble, and even travertine, a beautiful, custom pathway is sure to increase the joy of every person lucky enough to walk around your property. The benefits of using paving stones include:
Custom Designs: Wishing to do something simple like a beautiful grid pattern? Maybe something more intricate better fits your vision, like a circular patio area, or a multi-colored design down the length of your walkway. Paving stones are easy to use and easy to lay, and you can come up with more interesting, curated designs.
Versatility: Flagstone doesn't have the corner market on versatility when professional landscapers are involved. Thanks to the myriad ways in which to install pavers, one can use any number of different, large stepping stones, or set small colored rocks or gravel in between each to create a beautiful look. There's no reason why you need to be locked into using just one type of paver to complete your path.
Complimentary: Paving stones also complement any other type of installation you have around the home. Whereas natural rock might feel out of place next to a fire pit, or under an outdoor kitchen, or by a swimming pool, pavers compliment that all very nicely. They also offer more sure-footedness in high traffic areas, since the stones can be very smooth. Flagstone, on the other hand, may trip up people.
No matter how you choose to compliment your Bountiful home, be it through the use of flagstone or pavers, you will find our team is up to the task. We have been laying beautiful pathways in beautiful landscapes for over 22 years and are ready to help you see your property's full potential realized.