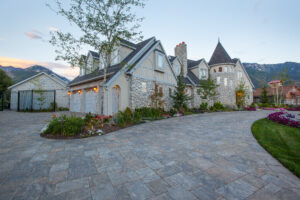 Bountiful's beautiful location in the hills north of Salt Lake has attracted people to the area since the first pioneers settled in Utah. Residents today still enjoy the magnificent views of the Wasatch Mountains that separate them from busy Salt Lake City.
This idyllic setting gives you the opportunity to make your home and yard a lovely place family and friends can enjoy.
If you need someone to transform your yard into a beautiful scene that will be the talk of the neighborhood, contact Cottonwood Landscapes. We offer a range of landscaping services in Bountiful, UT to fulfill any project you have in mind.
Hire Us for One or All of Our Services
When you schedule our landscaping services, ask us to install any of the following and more:
Decks, pergolas, arbors, gazebos, and fencing
Flagstones and other pavement options
Landscape design
Outdoor kitchens, fire pits, and fireplaces
Outdoor lighting
Patio covers
Retaining walls
Water features and swimming pools
Experienced Landscape Design
Landscape design is one of the key services that we offer. The excellent design that we are known for is what separates us from many of the other landscapers in Utah. To learn more about our landscape design services, please check out the link below!
See Our Work!
For the past 27 years, we have helped homeowners achieve their ideal landscapes. If you need more ideas for your home or want to see examples of our work, check out our gallery.
Call for More Information
If you are a home or business owner located in Bountiful, don't hesitate to call Cottonwood Landscapes today! Our professional team of landscape designers and technicians can turn your yard into the property of your dreams!