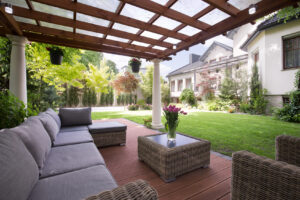 Does your yard need a roofed feature? Putting a functional structure in your back yard can be the perfect way to bring the inside out, and really give yourself a place from which to enjoy your beautiful back yard. Here is a guide to some of our feature options:
As you might guess from the lack of fancy name, deck covers are usually more about function than design. Deck covers have solid roofs that shield a deck area from sun, snow, and rain. Because of their enclosure and their straightforward nature, they don't require much upkeep, and they're great for shielding outdoor projects, toys, and appliances. Consider using this if you have a lot of automotive projects, kids who need a place to stash their bikes, or a hot tub that you want to have protected from the elements.
Pergolas are a more decorative option. Usually, they're attached to the house, although they're sometimes freestanding structures topping a walkway or a seated area. (Often, freestanding pergolas are called arbors). Pergolas are characterized by beams topping posts, forming something of a terrace. The roofs are open, although they provide the opportunity to create a roof out of fabric, wood, or our favorite… foliage.
Pergolas are appealing because they provide partial shade, and the strong posts and crossbeams provide a good frame where lights and fans can be installed. They're also beautiful and decorative, although they might require some upkeep, since the partial roof won't block out leaves and debris. Pergolas are popular choices for comfortable outdoor seating areas.
Many homeowners like pergolas because they're versatile. They're beautiful, but they create a functional area. The look of the enclosed area can change as you switch up the covering, or even as the seasons change, if you choose to decorate the structure using climbing vines and foliage.
Gazebos are freestanding structures, usually circular or octagonal. They're wonderful features for wide lawns, creating a picture-perfect vista, and a great destination for garden parties, tea parties, and luncheons. Gazebos are also nice because if they're screened, they can create a perfect bug-free zone from which to enjoy the night air in the evening.
Pergolas, Deck Covers, and Gazebos… which is right for you?
Where do you plan to put it? Will it be an attachment to the house, or a freestanding structure?
Do you want something that will be photogenic, or are you looking for a different function (like shielding from the weather?)
Speaking of the weather… how will this structure look and function in Utah's extremes of hot and cold?
How much maintenance are you willing to do to keep the area looking good?
What are your decorating plans? Are you going to incorporate plants and furniture into your new space?
Talk with Us
We can help you determine which structure will best fit your needs, and your budget. We can help you determine which materials will be best to create a beautiful, enduring feature in your yard and provide the perfect enclosure for your outdoor living space.