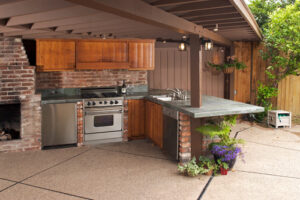 So much of what makes Bountiful special is how good the homes look against the backdrop of the Wasatch mountains. This blending of the suburbs and the outdoors creates a special type of relationship between nature and the people who live there. For many, the easy access to so many of Utah's best features leaves one wanting to take advantage of being outside as much as possible. Happily, our true calling at Cottonwood Landscapes is helping people integrate nature better into their homes, giving each client a chance to realize their own little piece of heaven. 
Perhaps there is no better indication of success, therefore, than in creating a beautiful and functional outdoor kitchen. By moving the meal preparation, plate warming, dishing, and serving to the outdoors﹘while still retaining all the amenities that make cooking fun and easy in the house﹘backyard gatherings not only become a more pleasurable experience but the practicalities of hosting and clean-up become easier as well.
What Makes an Outdoor Kitchen?
While an outdoor kitchen might sound like a difficult proposition, there are relatively few components required to set one up. Depending on how robust you would like the space to be, each of these features can be embellished to a more luxurious standard. However, the pieces of each kitchen will remain more or less the same. These include:
Appliances: Just like any other kitchen, so much of what you're able to accomplish will be dependent on your appliances. Making space for a refrigerator, a sink with running water, and a microwave is an essential part of designing the perfect outdoor cooking area.
Grills & Stoves: Perhaps the most important part of the outdoor kitchen, heavy-duty appliances like an oven, stove, and grill will help cook the food and keep it warm while you're entertaining your guests. 
Flooring: Installing a comfortable floor in your outdoor cooking area can be a great way to make the space feel like home. We have numerous options, from tile to flagstone to wood, and beyond. 
Countertops: No kitchen should be without some countertops to act as both a serving area and a place for people to sit or eat. Working with our landscape architects will help your kitchen inhabit a real sense of flow as you go from washing to cooking to serving.
Shelter: Every outdoor kitchen should have some kind of roof overhead. This not only protects the chef and the food from the elements but also helps to keep the appliances in working order. Our team is expert at creating space in a yard, whether that be a simple patio cover or an entire additional structure.
Don't wait any longer to start the landscape of your dreams