Bountiful is home to some of the most beautiful land in all of Northern Utah, nestled as it is against the mountains, full of greenery and life. Your home is a part of that idyllic heritage, and we want to help you bring out the best that your property has to offer. One of the most sought-after features in Utah homes is a beautifully designed water feature; one that evokes the spirit of Bountiful being an oasis in the dry American West, but that also celebrates the nature and prosperity of your home and the efforts you've taken to beautify it.
Not just any water feature will do, however. Not only will we be able to bring our extensive experience to bear on your landscape renovation, which will help determine the cost and viability of your options, but we want to hear how you see your yard turning out, and we will work within the parameters of that vision. There are many different types of water feature that your yard could be home to: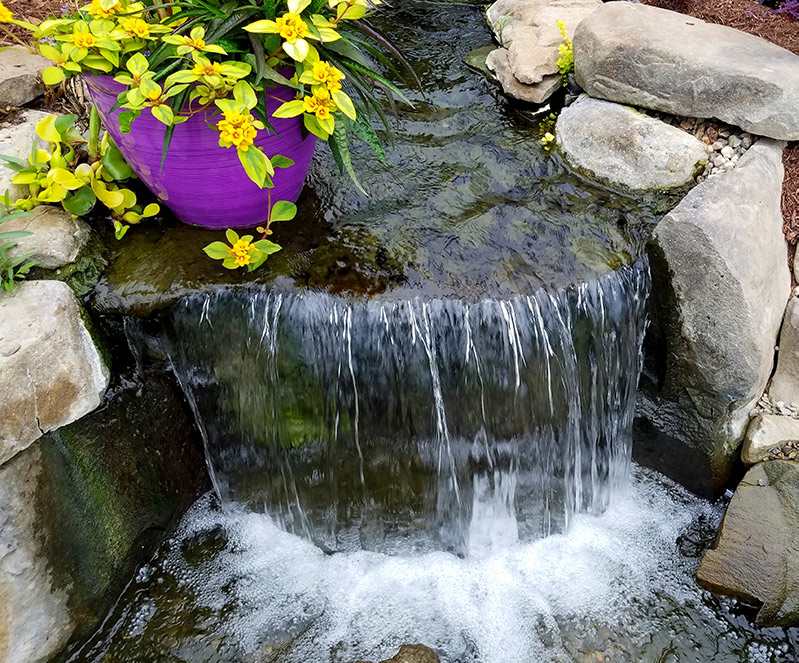 TYPES OF WATER FEATURES
Streams and Creeks:
Perhaps the most striking installation we could make is to put a gurgling stream right through your yard. Not only will it create a sense of lovely ambiance on your property as it weaves past rocks and sitting areas, but it makes a wonderful addition to a footpath or shade garden.
Ponds:
Ponds create incredible opportunities for your landscape to get in touch with nature. On the surface can float ducks and water lilies, while underneath we can plant beautiful greenery and place fish for you to enjoy. A pond may seem placid enough, but it will require a certain amount of maintenance if you do want to house wildlife there.
Swimming Pools:
The most conventional of all the water features we can place on your land, and yet the most fun. Swimming pools remain in high demand for Utah properties, especially with summers peaking at over 100°F multiple days of the year. Pools are also a great way for families to spend time together outside and can be enjoyed day or night, especially if you also plan on building a structure nearby for socializing or a hot tub.
Waterfalls:
If your yard has some interesting topography, we could look to install tiered waterfalls that may or may not result in a pond, as you wish. Waterfalls have become a feature of high demand over the years, and our experts can tell you just how to utilize the space you have to create something striking and memorable for your family and guests.
Fountains:
From formal fountains springing from a stone enclosure to a more naturalistic geyser found among the stones and streams of your landscape, a fountain is like the perfect capstone on your whole renovation project. Whether you're looking for something tastefully modest or joyfully grand, we have options to fit your vision and your budget.
Your Bountiful home already has a lot going for it, first of which is being built in Bountiful. The pride you feel for your neighborhood and your home can extend to the pleasure you will get from seeing your landscape brought to life with our richly expressive water features. Contact our team today to get started.