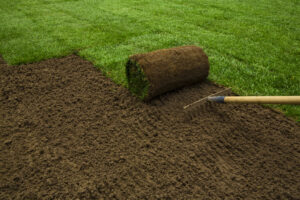 A healthy, green lawn is a mainstay of the American yard. There's nothing like it for playing games outside, keeping your yard cool, and giving your house a lush, cared-for, and relaxing effect.
Installing sod instead of growing your own lawn from seed can save you a ton of time and hassle. Sprouting your own groundcover will take months of good weather, and regular weeding and maintenance from you until the grass is mature, healthy, and well-established.
On the other hand, sod can be installed in a day, and it has immediate, beautiful results. Installing a professionally prepared lawn will ensure that you have naturally weed-and-disease-resistant grass that's ready to take on winter's chill and summer's hot temperatures.
We can help you choose the right kind of sod for your lawn. Different species of grass will be more resistant to drought, prove hardier during the cold winter weather, and have different tolerance to native weeds and insects. Depending on the levels of shade and sun in your yard, your watering preferences, price range, and the location you would like to install your lawn, we'll have different recommendations tailored just for you.
Soil Preparation
The most important step to installing sod is preparing ahead of time. Although some people complain about the unreliability of sod, not sure whether it will "take" or not, the truth is that if it's prepared well, there's no reason that sod will refuse to transplant in your yard.
Here are the steps we'll take to prepare your lawn for sod:
Clear all weeds, grass, and rocks from the area. Often, this requires a sod cutter in order to cut off weeds and existing grass at the roots.
After clearing the soil, you'll want to loosen and even it out, either with a hoe or with a rototiller.
We'll check the soil to make sure that it's the right environment (including pH balance and composition) for the lawn to take. This might require some follow-up treatment to make your soil optimum an optimum setting for a new lawn.
Before laying sod, we'll treat the soil with fertilizer, which will ensure that your lawn grows quickly, and installs roots in your yard.
Installation
Installing lawn sod requires careful measuring, cutting, and fitting. We want to be sure that your lawn covers the full area you wish, and that you don't waste money on extra panels of sod. We'll carefully measure your yard, and install the sod using time-tested and professional techniques. Timely installation will keep your sod healthier and encourage it to thrive in its new environment.
After the sod has been installed, it needs to be deeply and thoroughly watered. The first watering should soak the sod and the topsoil that it's on.
Maintenance
For the first few weeks, you'll want to baby your sod, to make sure that it takes well. Water it every day, early in the morning, although not as thoroughly as you did immediately after installation. Then taper off to every other day after the first week. By week three, you should be down to watering just once or twice a week. Specific watering instructions will vary by grass type. We can help you understand the watering needs of your specific lawn.
Keep foot traffic and heavy tools off of your lawn for the first week while it's laying down roots. Soon, you should be able to notice that the roots are taking hold by the fact that the sod doesn't pull away from the soil when you tug at the grass.
For a free estimate or any questions or concerns, don't hesitate to call the experts at Cottonwood Landscaping!