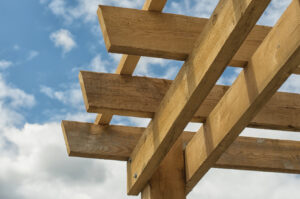 Pergolas are a valuable addition to any landscape. Well built pergolas help families facilitate outdoor dining events, and create relaxing outdoor living spaces. At Cottonwood Landscapes, we do pergolas the right way with large, high-end timbers, true craftsmanship, and proper integration into the overall design of the yard.
We want families to be able to get the most out of the land that they own, both in a practical and aesthetic way. At the end of the day, that's what landscaping is all about. We know that the people of our community in West Jordan and the surrounding areas want outdoor spaces that fit the needs of them, their friends, and their family. A pergola installed by Cottonwood Landscapes can address these needs, and can withstand the harsher elements of Utah.
Types of pergolas
Gable pergolas: If you know anything about roofing, you know what a gable roof is. A gable roof is designed with angles that help modulate water buildup on a roof, and also help protect a roof from wind damage, over time. A gable pergola is essentially a pergola with a slanted roof. Gable pergolas are easy to blend in with the roof of your actual home, if you want to design your pergola directly off the side of your existing structure.
Sail pergolas: A sail pergola is designed without a solid roof in mind. Instead, they are built so that you can attach a piece of cloth or canvas across the roof or walls to create a temporary covering. This way, you can take the cloth down in the winter, or when wind or rain pick up.
Skillion pergolas: A skillion pergola has a single surface roof that curves to one side. This prevents water from building up on top, which can cause water damage, over time. It also helps prevent a pergola from being destroyed by devastating wind. Overall, a skillion pergola is a sleek-style that is frequently used in public spaces, such as parks, for pergolas.
Open top pergolas: An open top pergola has a slotted roof that is made out of beams of wood, or even bamboo. Pergolas with an open top don't have the same protection from precipitation as one with a solid roof, but they allow for open airflow and are quite comforting. One popular way that people use open top pergolas is by growing vines and plants over the roof, which creates a stunning landscape attraction.
Browse our gallery
If you'd like to see some of the pergolas that we have constructed here at Cottonwood Landscapes, please take some time to click through our galleries so that you can see the pride that we take to make our work exemplary. See how we can create a perfect social space in your backyard today!
Trust our quality craftsmanship
At Cottonwood Landscapes, our motto is "Landscaping with Integrity." Every day, we strive to live up to our motto by having pride in all of the work that we do. Each of our designers, technicians, and office personnel have one goal: to turn your landscaping dreams into a reality. We do this by utilizing quality materials, meeting or exceeding building code standards, and using our knowledge of Utah's climate to ensure our pergolas function as advertised.
Contact us today
Call us today at 801-561-5454 to get a quote for your high-quality decks and pergolas. Our representatives will help you get started on the journey to improving your yard.